Weather
At any time of year, visitors to Redwood National and State Parks should be prepared for many types of weather. Dress in layers to accommodate any eventuality. Pack rain gear and wear sturdy walking shoes or hiking boots with non-slip soles—the moist rain forest and coast can be slippery.
Oceanic influences ensure fairly constant year-round temperatures along California's redwood coast: mid-40s to low-60s°F. Winters are cool with considerable precipitation. From October through April, a high pressure area sitting atop the North Pacific drives a series of storms onshore, dumping the majority 60-80 inches of annual rain over the region.
In summer, the high pressure area migrates north, taking with it the heavy clouds and storms of winter. The California Current pulls warm surface water away from the coast, bringing deeper and colder water from the ocean's depths close to shore. Where cold ocean and dry land meet, moisture is created: a narrow band of fog seeps up deeply eroded river canyons, shrouding coast redwoods in life-sustaining moisture during the drier summer. Conditions inland are generally warmer and sunnier.
National Weather Service (NWS) Forecasts
Gasquet, California
Crescent City, California
Orick, California
Arcata, California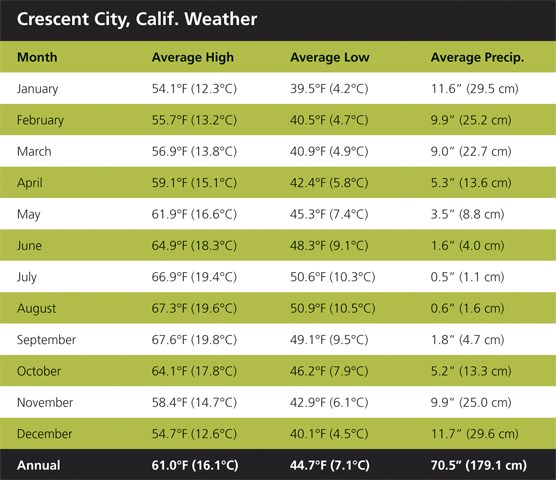 Last updated: October 13, 2022