Roosevelt Elk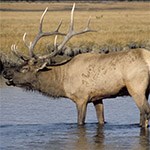 Roosevelt Elk
The Roosevelt elk (Cervis elaphus roosevelti), is the largest of the six recognized subspecies of elk in North America; they once occurred from southern British Columbia south to Sonoma County, California. Today Roosevelt elk in California persist only in Humboldt and Del Norte Counties, and western Siskiyou County.
Seven elk herds call Redwood National and State Parks home, although at times these herds become loose aggregations of smaller groups. General herd locations are the Crescent Beach area, Gold Bluffs Beach and Prairie Creek Redwoods State Park, Elk Meadow, Lower Redwood Creek, park lands in the Orick Valley, and the Bald Hills. The Bald Hills herd is by far the largest in parks, numbering around 250 animals. The other herds range in size from approximately 10 to 50 animals.

In Redwood National and State Parks, Roosevelt elk may be seen anywhere from Freshwater Lagoon to just south of the Klamath River and north of the Klamath near Crescent Beach and Crescent Beach Education Center. They may be encountered in virtually all habitat types including forests, prairies, along Redwood Creek gravel bars, and on the beaches.
Elk management in Redwood National and State Parks mainly consists of keeping track of herds seasonally, especially during calving season (late May through June), and during the fall rut (late August through October), when elk are more likely to become aggressive toward humans. Park staff respond to any reports of close encounters between elk and humans.
Learn more about Your Safety in Elk Country
Last updated: November 24, 2017