Historic Orchards
Where Are The Historial Orchards?

About thirty percent of National Park Service units have some historic fruit trees or orchards, and Redwood National and State Parks are no exception. There are at least nine orchards within the parks, and many individual fruit trees scattered throughout. Several interesting varieties of fruits exist in the largest two orchards in Redwood National and State Parks: Lyons Ranches Home Place Orchard in the Bald Hills, and the Boyes Prairie Orchard in the Elk Meadow area of Prairie Creek Redwoods State Park.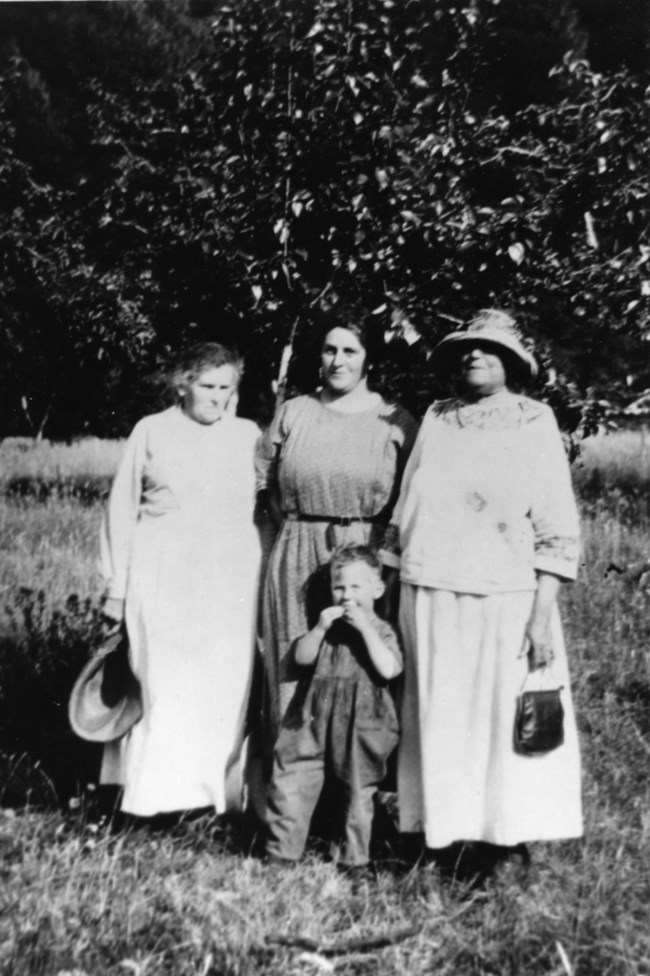 Boyes Prairie Orchard
The Boyes Prairie Orchard in Elk Meadow was started about 1884 by Andrew Harris. He was the first Anglo to farm the meadow, and he also grew Baldwin apples. Harris advertised his 320-acre ranch for sale and listed four acres of fruit trees – likely about 150 to 200 trees – before selling it to William Boyes in 1905. Mr Boyes then established a dairy and hotel. The Oaks, as the inn was known, was a popular resort for hunters and fishermen, where horses and pack outfits were available. The inn's location on the main county road, and later on the Redwood Highway, made it a popular stopping point. Visitors said the inn had, "good things prepared by Mrs. Boyes and daughter, Ethel, which include honey, butter, eggs, ham and bacon…" and no doubt some fruit from the orchard.
Today, there are only 15 trees remaining, which include walnut, apple, pear and cherry. The surviving apple varieties indicate the orchard may have been developed as a commercial orchard to sell fruit, since the varieties found- Baldwin, Rhode Island Greening, Gravenstein, and White Winter Pearmain- were all popular, edible varieties that are reliable apple producers. The White Winter Pearmain is notable as the oldest variety, first recorded about 1200 A.D. It was also one of the first apple varieties brought to the New World by the Plymouth Colony in Massachusetts.
Lyons Ranches Home Place Orchard

Located in the Bald Hills, the Lyons Ranches Home Place Orchard has over 40 trees comprised of English Walnut, apples, pears, cherries, and plum. Grapevines also remain in an orchard that included peaches and "lots of other fruit" according to a 1904 article in the Humboldt Standard.

Jonathan and Amelia Lyons first settled on the ranch in 1868 and raised prize-winning sheep. In 1901, at the World's Fair they won a gold medal for the wool their ranch produced. Ranching was a family business for many years with their four sons - Sherman, Antonio, Anderson, and William - and grandson Gene. Like many farmers at the time, orchards were grown to provide fruits and nuts for the family, but also as a cash crop. The Lyons Ranches Home Place Orchard has some unusual varieties including the giant Gloria Mundi (that can grow up to 18 inches in diameter) and Alexander apples. These two varieties along with the Red Astrachan found here, are good for home cooking, but do not ship or store well.

The Lyonses also grew Baldwin apples, a common commercial apple that kept well and was the most popular apple of the early 20th century. A 1902 article in the Arcata Union reported that "Joe Pitt returned from Jonathan Lyons with a load of apples this week", and it's a good bet that most of them were Baldwin apples.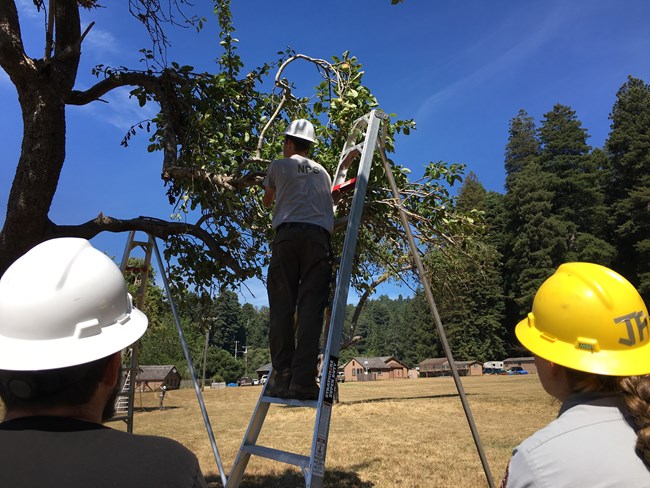 Why We Preserve Historic Orchards?
The question "Why preserve historic fruit and nut trees in national park sites?" has as many answers. Some of those reasons are that fruit trees - especially the long-lived apple - are often the only remnants of European American settlers staking their claim to land. Also, fruit orchards are repositories of genetic information that can teach us about pioneering orchardists creating unique varieties; and they can serve as genetic stock to create new varieties for future generations of consumers.
In August 2019, the National Park Service held a training program at the Boyes Prairie Orchard on how to maintain historic orchards. Students from national parks around the country, California State Parks, US Forest Service, and historic orchard enthusiasts, learned about pruning tools and techniques, and were able to practice their newly learned skills by cleaning up the dead and damaged branches. They also removed invasive vines that had completely covered one of the apple trees. The skills learned at this training will help maintain and preserve the Boyes Prairie Orchard, and other old orchards throughout the country, for many more years to come.
Watch Videos About Our Historic Orchards

In these short episodes, different people share their passion and experiences with working to protect and manage historic orhards. These videos were filmed in August 2019 during a three-day training held at Boyes Prairie Orchard.
The NPS Cultural Landscapes Program Manager talks about her work with historic orchard programs across the National Park Service.

Duration:

2 minutes, 30 seconds
An NPS instructor from John Muir National Historic Site talks about why preserving orchards matters.

Duration:

1 minute, 29 seconds
Redwood National Park's cultural landscape architect talks about how elk and bears can damage the parks' orchards.

Duration:

4 minutes, 26 seconds
An NPS instructor from Capitol Reef National Park talks about how historic orchards are relevant in today's society.

Duration:

1 minute, 35 seconds
A student in the class - who is a US Forest Service employee - talks about protecting historic trees at his site.

Duration:

2 minutes, 51 seconds
Last updated: February 4, 2020