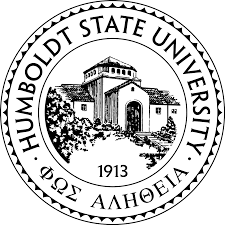 Humboldt State University
(HSU) is a comprehensive, residential campus of the California State University. It is located in Arcata - just south of Redwood National and State Parks.
HSU welcomes students from California and the world to it's campus. It is a park partner for many reasons, one of them is that HSU serves it's student community by providing a wide array of programs and activities that promote understanding of social, economic and environmental issues. Much in-park research is conducted by HSU students and faculty, as well as HSU providing the park tremedous amounts of research material and curatorial collections. Many seasonal, term and permanent park employees are HSU students and graduates.