Special Use Permits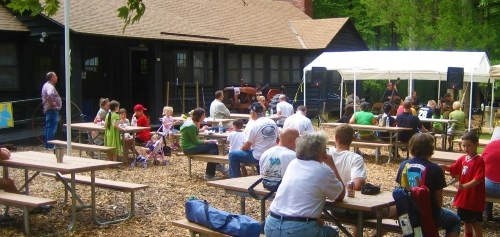 Prince William Forest Park is a wonderful location for group gatherings, races, and photography and filming. However, some events may require resources outside of the park's normal operating procedures or are otherwise prohibited as part of regular visitation and recreation. In some cases, a Special Use Permit may be required for some activities to take place within the park. On this page you can find information about activities that require a permit and how to apply for a permit.

Please note that park entrance fees and camping fees are seperate from permit application fees and costs.
Activities That Require a Permit
The following are popular activities that require a permit. This is not a complete list. Please feel free to contact us if you have any questions about an event or activity that you wish to host at Prince William Forest Park.
Weddings and parties
Picnic gatherings that may involve alcohol, catering, and outside vendors
Organized and/or sponsored races, marathons, walkathons, etc.
Large gatherings and meetings
Distribution of printed material
Memorializations
News media that is not considered breaking news
Military ceremonies
Band and choir performances
Scientific research (see Curatorial Requirements for Research Permits)
Some still photography (see information below)
Filming & Still Photography Permits
Changes to Commercial Filming Permits on Park Land
On January 22, 2021, the US District Court for the District of Columbia issued a decision in Price v. Barr determining the permit and fee requirements applying to commercial filming under 54 USC 100905, 43 CFR Part 5, and 36 CFR Part 5.5 are unconstitutional. In response to the decision, the National Park Service issued interim guidance on February 22, 2021, to manage filming activities. The National Park Service intends to update regulations addressing filming activities that are consistent with the outcome of Price v. Barr. Once effective, those regulations will replace and supersede the interim guidance.
Are filmers still required to pay fees to film in parks?
Under the interim guidance issued on January 22, 2021, the National Park Service is not collecting application or location fees, or cost recovery for filming activities. Entrance fees are required to enter the park. Under the interim guidance, filming activities may require a permit if they would impact park resources or the visitor experience. A Filming Permit may be required to:
maintain public health and safety;

protect environmental or scenic values;

protect natural or cultural resources;

allow for equitable allocation or use of facilities; or

avoid conflict among visitor use activities.
Examples of requests that may require a permit include, but are not limited to: entering a sensitive resource area, filming in areas that require tickets to enter, or filming in visitor centers, campgrounds, or other visitor areas. The decision to require a permit rests with the park superintendent based on potential impacts to park resources or the visitor experience.Those interested in commercial filming activities at Prince William Forest Park are encouraged to contact the park directly for more information about filming in the park and to discuss how to minimize potential impacts to visitors and sensitive park resources.
Still Photography
When is a permit needed?
Price v. Barr had no impact on how the National Park Service regulates still photography, so there are no changes in how the National Park Service regulates that activity. Still photographers require a permit only when:
the activity takes place at location(s) where or when members of the public are generally not allowed; or
the activity uses model(s), sets(s), or prop(s) that are not a part of the location's natural or cultural resources or administrative facilities; or
a park would incur additional administrative costs to monitor the activity
Additional cost recovery fees may be associated with a Still Photography Special Use Permit if the activity requires additional park resources.
How To Obtain a Permit
Individuals or groups that wish to obtain a Special Use Permit or would like additional information, please contact the park's Permits Officer, Chief Ranger Brendan Bonner, at e-mail us or (703) 221-5845.

Download the permit application. Mail or email to the park's permit officer.

Applications can be mailed to the following address:

Prince William Forest Park
Attn: Special Use Permits
18100 Park Headquarters Road
Triangle, VA 22172

Individuals interested in applying for a Special Use Permit are encouraged to learn about park regulations by consulting Title 36, Code of Federal Regulations, Parts 1 through 5 and the Superintendent's Compendium.
How much does a permit cost?
The application fee for a Special Use Permit is $120. Additional fees may be applied depending on the nature of the permit and any costs of recovery that may result from the permitted activity.
Last updated: May 4, 2022