Prince William Forest RV Campground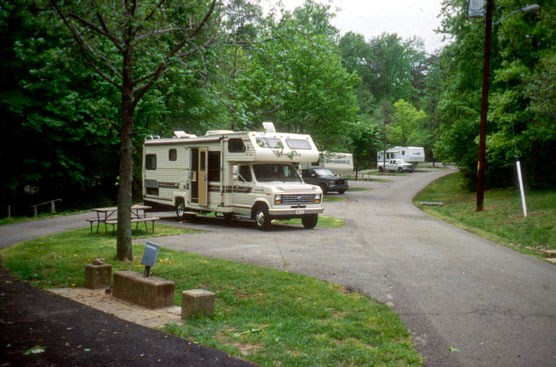 The Prince William Forest RV Campground is a concessionaire-operated campground with full hook-ups. The campground boasts pull through sites, a pool and laundry facility, and senior citizen discounts. It is Virginia's closest RV camping to Washington, D.C.
To ensure a pleasant camping experience, please respect wildlife and fellow visitors by adhering to park rules and regulations. For more information on the RV Campground, please visit their website or call 703-221-2474.
Facilities include:
Swimming Pool
Playground
29 Full Hookup Sites
43 Electric & Water Sites
4 Electric Sites
Asphalt Roads
Clean, modern restrooms
Hot Showers (free)
Laundry (coin-operated)
Propane
Ice
Rules and Regulations
Where allowed, campsites must be kept clean and orderly from the time of arrival to departure. Fires must be contained in park provided or personal grills. No fires can be left unattended. Extinguish all fires before retiring for the night or leaving the area. Leave extinguished ashes in the grills.
If not camping, wood within the park will not be cut, collected or removed for any reason, unless under an approved Special Use Permit. If camping, dead and downed wood less than six inches in diameter may be collected within the campground for use and consumption during a stay with a valid camping permit. Use of power tools such as chainsaws is prohibited.

Ropes, clotheslines, tentlines, hammocks and nails are not to be attached to trees or other vegetation. Quiet hours are between the hours of 10:00 p.m. to 6:00 a.m. and are strictly observed. Service sinks are located at the comfort stations. All dishes and utensils must be washed in the service sinks or in containers. Pour grey wastewater directly into service sinks and not onto the ground. Do not use campsite spigots for cleaning, bathing or brushing teeth. Campers must clean site of all trash, food items and property before leaving the park.

Tents and screens (tent campgrounds only) must be kept inside the camp site in order to protect surrounding vegetation and reduce soil compaction. Digging, trenching or leveling sites for any purpose is prohibited. Bringing straw, hay, pine boughs or any vegetative materials into the campground is prohibited. The following are also prohibited in the campground: Firearms, fireworks and weapons of any kind.
Emergencies and Security
Report all emergencies to a park ranger. The park visitor center is open daily from 9:00 a.m. to 5:00 p.m. with exception to Christmas Day, Thanksgiving and New Years Day. The visitor center phone number is 703-221-7181. For a law enforcement concern, please contact a park ranger or call Park Dispatch toll free at 866-677-6677, or call 9-1-1 for emergencies.
Keep valuables and property secure at all times. Report lost and found items to a park ranger or at the visitor center.

Sentara Northern Virginia Medical Center is approximately ten miles north of the park. To get there, turn left on 619. Turn left on U.S. Route 1 Northbound at the stoplight. Proceed for eight miles. Turn left onto Opitz Blvd. Drive for ¾ mile. Potomac Hospital is on the right.

Note: This is only a guide and is not all inclusive. Title 36 of the Code of Federal Regulations is applicable to the park. For further information, please contact the park visitor center at 703-221-7181.


Last updated: September 22, 2017