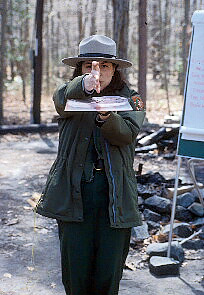 What is Orienteering?
Orienteering is an activity for all ages and levels of fitness and skill, in which the object is to locate control points within the park using a map and compass. It can be enjoyed as a leisurely walk in the woods or as a competitive sport combining the suspense and excitement of a treasure hunt.

Orienteering in The Park
There are 30 orienteering courses within the picturesque setting of Prince William Forest Park. The different orienteering courses are designed to challenge orienteers of all levels from the basic beginner to those with more advanced skills. The courses were developed in 1972 through a partnership with the Swedish Military Orienteering Team and the United States Marine Corps and Quantico Orienteering Club.

On even years (2006, 2008 etc...) the even numbered courses 2-30 are available for use. On odd years (2007, 2009) the odd numbered courses, 1-29, become active. This system is one of the many check and balances in place to prevent overuse of the courses which can lead to social trails.
Maps and a limited number of compasses can be signed out at the park visitor center. Please note that the course maps cannot be photocopied and cannot be kept overnight. The course maps are available from 9 am to 5 pm only.

For those wishing an introduction to the sport, groups can request a Ranger-led orienteering program by simply filling out the Ranger Program Request form on our website.
History
Orienteering as a sport began in Scandinavia in the nineteenth century, where it was primarily a military event and part of military training. It was not until 1919 that the modern version of orienteering was born in Sweden as a competitive sport by Ernst Killander, who is thought of as being the father of orienteering. In the early nineteen thirties, the sport received a technological boost when three other Swedish orienteers developed a new compass, which was more precise and faster to use. Orienteering was brought into the United States in 1946.