Oak Ridge Campground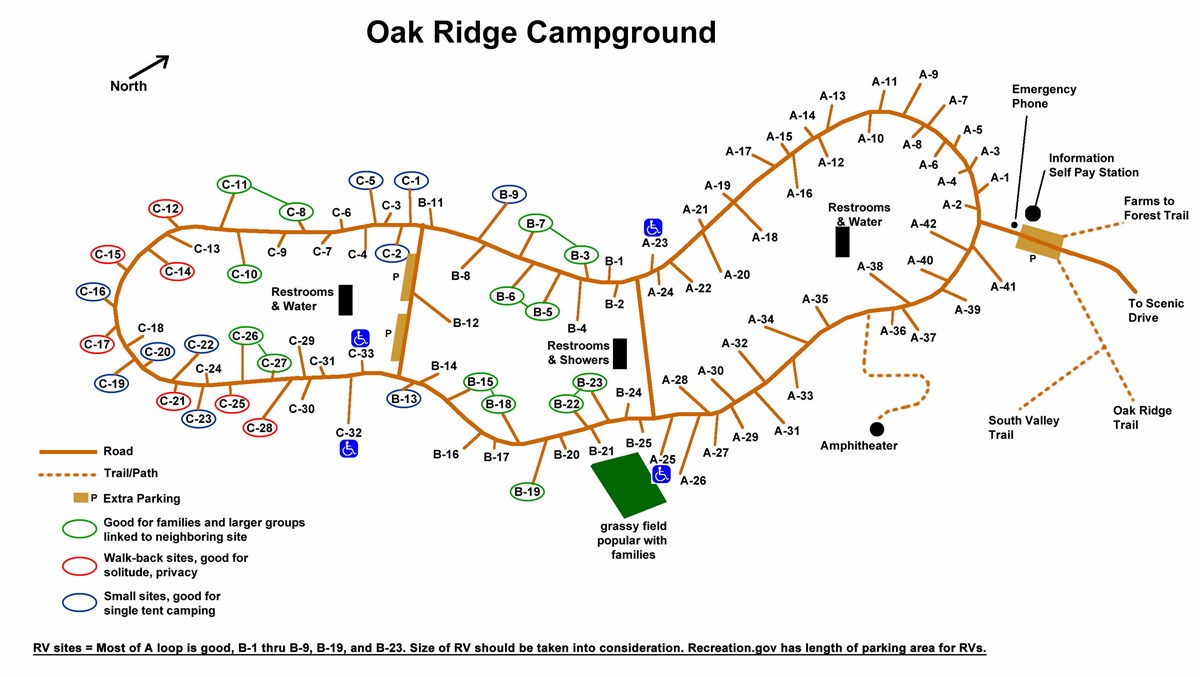 Oak Ridge Campground is a 100-site, wooded campground capable of accommodating tents, RVs, and trailers (no hookups). Reservations are required in B and C loops from late April - October 31. Reservations can be made on Recreation.gov. All reservations must be made atleast 24 hours in advance. The fee per campsite is $26.00. The camping fee for Interagency Senior/Access pass holders is $13.00.
A Loop: 42 sites
Open
March - November

B Loop: 25 sites
Open
March - November

C Loop: 33 sites
Open
April - October

Tents and RVs (no hookups)

First Come, First Serve (March - end of November)

Restroom is operational from April to October. Use B-Loop restroom during other months.

xxxxxxxxxxxxxxxxxx

Tents & RVs (no hookups)

Off Season: First Come, First Serve (March to mid April and late October to end of November)

High Season:

Reservations Only on

(first of March - first of December)

Restroom open when campground is operational

Tents Only (no hookups)

High Season:

Reservations Only on (late April - first of November)



Amenities
Each site has a picnic table, parking slip, grill and lantern post. Each loop has restrooms featuring sinks and flush toilets and the "B" loop restroom has showers. Evening ranger programs and campfire talks are offered during summer weekend evenings at the centrally located amphitheater. An emergency phone is located by the registration booth. Restrooms are handicapped-accessible.
Camping limitations
Campsite capacity is a family unit or six people or less and two tents (or camping units) per site. Campers may stay no longer than a total of 14 days in a calendar year (January through December). Organized group camping is not permitted at Oak Ridge Campground. Group camping is available at Turkey Run Ridge Group Campground.
RV Length Limits
Trailers and fifth wheels are limited to up to 26 feet in length and 12 feet in height and motor homes up to 32 feet in length and 12 feet in height. Check out time is 12:00 p.m. Hook-ups are not available. Full hook-ups are available at the concession-run Prince William Forest RV Campground, located three miles North on Route 234 off exit 152. For information on Prince William Forest Park RV Campground, please call 703-221-2474 or 888-737-5730.
Fees
A camping fee per night per site is collected at the visitor center or self-service registration station at the campground entrance for A loop and on Recreation.gov for B and C Loops (late April - October 31). Holders of either an Interagency Senior or Access pass are eligible for a 50% discount per campsite.
Prince William Forest Park is a federal recreation area. A park entrance fee or pass is required to gain admittance into the park. This entrance fee is valid for seven consecutive days. A Prince William Forest Park annual pass is also available. This pass may be purchased at the visitor center. If the visitor center is closed, feel free to include your entrance fee in your campground envelope. We also have an "After Hours" fee drop slot at the visitor center to pay your entrance fee. Entrance fees help fund park projects and upkeep of park resources.
Accessibility
Sites A23, A25, C32 and C33 are handicapped-accessible sites with wheelchair accessible picnic tables and fire grills. Please reserve these sites for visitors with disabilities unless there are no other sites available.
Rules & Regulations
The following items, pursuant to 36 C.F.R 2.4 are prohibited in all areas of the park except where expressly permitted by the Superintendent in a written permit issued by the park:

Any trap or net, fireworks or non-firearm weapon. Weapons are defined under 36 C.F.R 1.4 to include: bow and arrow, crossbow, blowgun, spear gun, hand-thrown spear, slingshot, irritant gas device, explosive device, or any other implement designed to discharge missiles (excluding firearms as noted below), and includes a weapon the possession of which is prohibited under the laws of the State in which the park area or portion thereof is located.

Firearms may be possessed by those who may legally possess firearms under applicable federal, state, and local laws. Federal law prohibits firearms in certain facilities in this park. Those places are posted with signs at all public entrances. 36 CFR § 2.4(a)(1)(iii) still prohibits the use of any firearm in the National Parks.

Where allowed, campsites must be kept clean and orderly from the time of arrival to departure. Fires must be contained in park provided or personal grills. No fires can be left unattended. Extinguish all fires before retiring for the night or leaving the area. Leave extinguished ashes in the grills. If not camping, wood within the park will not be cut, collected or removed for any reason, unless under an approved Special Use Permit. If camping, dead and downed wood less than six inches in diameter may be collected within the campground for use and consumption during a stay with a valid camping permit. Use of power tools such as chainsaws is prohibited.

Ropes, clotheslines, tentlines and nails are not to be attached to trees or other vegetation. Hammocks are allowed provided straps are at least 1 & 1/2" and are not affixed to a tree less than 6" in diameter. Quiet hours are between the hours of 10:00 p.m. to 6:00 a.m. and are strictly observed. Service sinks are located at the comfort stations. All dishes and utensils must be washed in the service sinks or in containers. Pour wastewater directly into service sinks and not onto the ground. Do not use campsite spigots for cleaning, bathing or brushing teeth. Campers must clean site of all trash, food items and property before leaving the park.

Tents and screens must be kept inside the camp site in order to protect surrounding vegetation and reduce soil compaction. Digging, trenching or leveling sites for any purpose is prohibited. Bringing straw, hay, pine boughs or any vegetative materials into the campground is prohibited.
Emergencies and Security
Report all emergencies to a park ranger. The park visitor center is open daily from 9:00 a.m. to 5:00 p.m. with exception to Christmas Day, Thanksgiving and New Years Day. The visitor center phone number is 703-221-7181. For a law enforcement concern, please contact a park ranger or call Park Dispatch toll free at 866-677-6677, or call 9-1-1 for emergencies.

An emergency phone is located at the campground registration board. Keep valuables and property secure at all times. Report lost and found items to a park ranger or at the visitor center.

The closest hospital is Sentara Northern Virginia Medical Center (GPS address is 2300 Opitz Blvd., Woodbridge VA 22191) and phone # 703-523-1000. To get there, exit the park through the main entrance (GPS's may attempt to take you through the gated fire roads in the park). Turn left on 619. Turn left on U.S. Route 1 Northbound at the stoplight. Proceed for eight miles. Turn left onto Opitz Blvd. Drive for ¾ mile and the Hospital is on the right.

Note: This is only a guide and is not all inclusive. Title 36 of the Code of Federal Regulations is applicable to the park. For further information, please contact the park visitor center at 703-221-7181.


Last updated: May 24, 2018