Poor House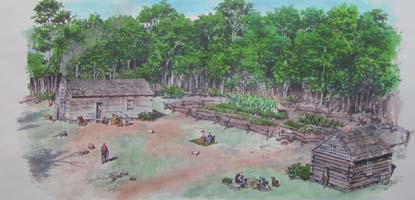 An interesting building in this area at the time was the Prince William County Poorhouse, which sat in the northwest corner of the park. The Poorhouse opened in 1794 and operated until 1927. By the late eighteenth century, the states had different ways to help the less fortunate. In colonial Virginia, charity was left to the Anglican Church, then recognized at the official church of the state. This status ended in 1785 with Virginia's Statute for Religious Freedom. The commonwealth's government insisted that counties make a centralized place to care for the poor, rather than providing door to door relief. The government appointed Overseers of the Poor, who in turn collected a Poor Tax. This was used to fund the poorhouse.

Almshouses were deliberately designed to be harsh, the bare minimum, to influence the poor to work hard to advance up the economic ladder. However, most of the occupants at the Prince William County Poorhouse were not capable fo working. At the same time, administrators only admited those who could not make a living for themselves. In 1858, only four of the seventeen residents were physically able to work. Those living int he poorhouse were buried in a nearby cemetery. In 1996, archeologists found thirty graves, only thirteen of which had headstones. The county provided coffins for the poor who did not live at the poorhouse.
Continue on to the Cabin Branch Community
or
Return to the History and Culture main page.
Last updated: April 10, 2015