Park Families
Though Prince William Forest Park was founded largely as a natural area to be used for recreation, the preservation of this forest has also protected the history of the land. What could have been turned into shopping malls and housing developments now lies safely protected forever beneath the trees.

Over 45 family cemeteries exist within the park. At least 300 individual burials have been identified. The location of these sites is not revealed to anyone but family descendants, and the stories of these remarkable people deserves to be celebrated.

If you do come across a family cemetery in Prince William Forest Park, please respect these sites and do not attempt to move or remove any artifacts. It is illegal to remove or alter any artifacts or historic sites within a National Park and violators will be prosecuted to the full extent of the law.

If you are a member of a park family, please contact the visitor center at 703-221-7181 to plan a visit, request an additional burial, or share information about your family history.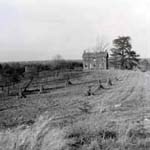 Oral Histories of Farm Families
Listen to oral histories about the families who lived here before the park was created.
Last updated: December 21, 2022