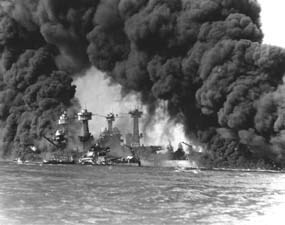 A Breakdown in Intelligence
Standing on the brink of war, U.S. intelligence operations were splintered among nearly a dozen, often competing, federal agencies; primarily the Army's Military Intelligence Division, the Navy's Office of Naval Intelligence, the State Department's various geographic area divisions, and the Justice Department's Federal Bureau of Investigation.
In early 1941, at least 6 months before the Japanese attack on Pearl Harbor, President Franklin D. Roosevelt (FDR) asked a Secretary of War Stimson, Secretary of the Navy Knox, and Attorney General Robert Jackson, who oversaw the FBI, to make a recommendation on how to better coordinate these various intelligence operations. FDR had been alerted to the dangerous cracks in America's intelligence framework. The attacks at Pearl Harbor showcased these fractures to the world. The U.S. formally entered World War II on December 8, 1941. Behind the scenes, FDR had been building the spearhead of a shadow war that was essential to victory the more public theaters of action. After Pearl Harbor, it was time to push a fledgling agency into action.