Red Barn Art Exhibitions - 2014
In 2003, Point Reyes National Seashore Association (PRNSA) established the art gallery in the Red Barn Classroom at Point Reyes National Seashore. Rotating painting, photography, and educational exhibits several times a year, themes of the selected shows reflect the natural or cultural aspects of the Seashore and surrounding area.
The Red Barn Art Exhibitions of 2014 included:
Visit the Red Barn Art Exhibitions section of our Indoor Activities page to find links to pages where you can learn about the exhibitions from other years.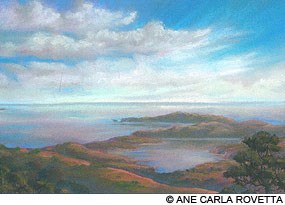 West with the Light: Images of Point Reyes
The exhibition was from October 7, 2014, through January 6, 2015;
The artists reception was on Sunday, October 12, 2014
Ane Carla has been interpreting the colors, moods, and beauty of the Peninsula in painting and storytelling for decades. The rich and subtle tones of her artworks draw you into new and familiar landscapes filled with light and shadow.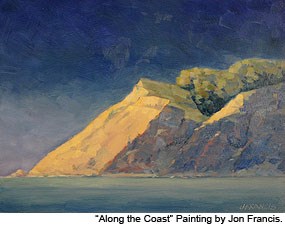 "BayWood Artists: Point Reyes Wild"
The exhibition was from August 30 through September 30, 2014;
Artists reception was on August 30, 2014.
An exhibition by the BayWood Artists began the holiday weekend of Saturday, August 30, 2014, and continued through September 2014. An opening reception was held on Saturday, August 30. Festivities culminated with a cocktail hour on Saturday, September 20, in conjunction with the Point Reyes National Seashore Association's (PRNSA) Dinner at the Pacific Plate.
Throughout 2014, the BayWood Artists painted in the National Seashore's lands as part of the campaign, "Wilderness Forever" celebrating the 50th anniversary of the Wilderness Act passed by the United States Congress in 1964.
Several BayWood Artists taught classes for PRNSA's Field Institute in the fall, celebrating outdoor painting, wilderness, and the Point Reyes National Seashore. A "paint out" was held, during which BayWood Artists painted in the park and the public were invited to visit the artists at work. Visitors were also invited to view, enjoy, and purchase BayWood Artists' paintings displayed at the Bear Valley Visitor Center.
BayWood Artists is a group of professional Northern California artists dedicated to helping preserve and protect areas recognized as particularly beautiful and important to future generations.
In recognition of the effort of preserving our parks, the award-winning BayWood Artists come together in giving back to the community through their art. Some of the most famous American landscape artists feature some of their best paintings in this art exhibit. The artists have gone to great lengths to capture the light and beauty of landscape and seascape of areas that are not easily accessible in order to create paintings; a window to the world of nature that we all have come to love.
For the third year, the artists known for their plein aire style, gave a portion of the proceeds to PRNSA, the primary nonprofit park partner organization, which was created to raise awareness and funds for education, preservation, and resource protection of the singular west coast National Seashore.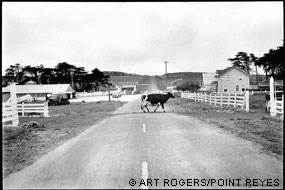 "West Marin Views"
Photographs by Art Rogers
Photography exhibition was from June 10 through August 25, 2014
The artist's reception was on Saturday, June 14, 2014.
Visitors were invited to view photographs of West Marin made by local photographer Art Rogers, a Guggenheim Fellow and a recipient of a National Endowment for the Arts.
"For more than 150 years, photographic images have told the story of the American west and an era when life was simpler. They highlighted the beauty and tranquility of the western frontier and captured the intimate relationship of humanity with the land and animals. But it is not just a cultural memory, it is our American identity.
"I have lived and worked in West Marin as town photographer for over 43 years. These photographs are selections from this retrospect…of places that are beautiful, tranquil, dynamic, and that connect you to humanity, the land, and animals."
-- Art Rogers June 2014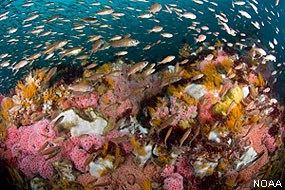 "Cordell Bank National Marine Sanctuary a National Treasure, a Local Jewel"
Photography exhibition was from January 8 through June 3, 2014.
Reception and 25th Anniversary Celebration was on Saturday, May 10, 2014.
Cordell Bank is an offshore underwater oasis that thrives with ocean species above and below the surface. Its biological wealth earned federal protection as a National Marine Sanctuary in 1989. Since it's so difficult to visit, the public was invited to come visit it in this photo exhibit, where we brought it to you.
Visitors were also invited to join NOAA's Cordell Bank National Marine Sanctuary Staff on Saturday, May 10, to celebrate 25 years of protecting this unique, offshore, underwater jewel off the coast of Point Reyes. Visitors were invited to take a guided photo tour in the temporary exhibit at the Red Barn, talk with sanctuary staff, see a remotely operated vehicle (ROV) up close and personal, see underwater video footage of Cordell Bank, and enjoy some light appetizers and beverages.
Download the flyer. (727 KB PDF)
Last updated: July 26, 2019