Historic KPH Maritime Radio Receiving Station and Cypress Tree Tunnel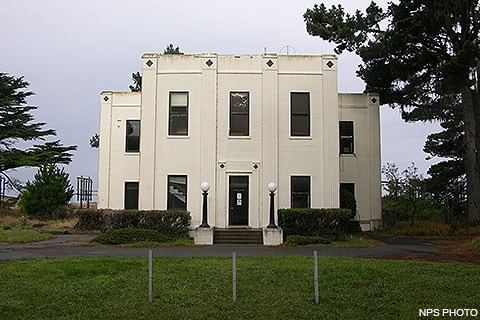 The Historic KPH Maritime Radio Receiving Station
Guglielmo Marconi sited and commissioned the building of a wireless telegraphy transmitting station west of Bolinas and a receiving station in Marshall on Tomales Bay in 1913–14. The Marshall station was supplanted in 1929 to support the growing point-to-point business in the Pacific by a new Art Deco-designed facility at Point Reyes Beach on the "G" Ranch. Few of the succeeding generations of antennas—arranged in "farms"—remain at the two sites. However, the radio equipment, ship-to-shore Morse communications, and teletype—some of it dating to the World War II-era—remains intact, has been restored and made functional, and is used to broadcast on numerous frequencies, including KPH. Visit our Communications at Point Reyes page to learn more about this history.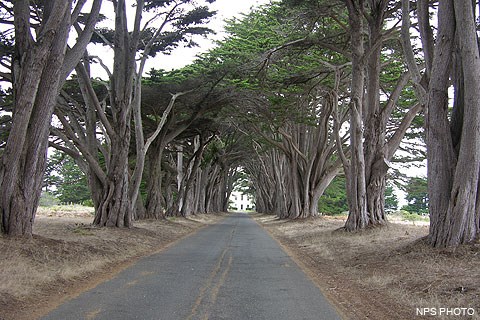 The Cypress Tree Tunnel
Planted around 1930, the Monterey cypress that now create the "tree tunnel" at the Point Reyes Receiving Station is a signature landscape feature that evokes some of the prestige that RCA placed in this profitable, historic operation.
The Receiving Station and "Tree Tunnel" are located at what is now the park's North District Operations Center.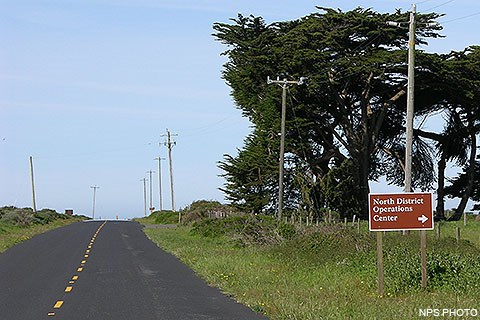 Directions from the Bear Valley Visitor Center to the North District Operation Center and Historic RCA Coast Station KPH
Allow ~25 minutes.
From the Bear Valley Visitor Center, head north 0.2 miles (0.3 km) to Bear Valley Road.
Turn left and follow Bear Valley Road 1.75 miles (2.8 km) northwest to Sir Francis Drake Boulevard.
Turn left and follow Sir Francis Drake Boulevard 9.5 miles (15.2 km) north and west.
Follow road signs for "Lighthouse" until you see a sign for "North District Operation Center."
Parallel park on the shoulder along Sir Francis Drake Boulevard.
Tour the Historic KPH Receiving Station
Most Saturdays throughout the year, Maritime Radio Historical Society (MRHS) members welcome visitors and provide guided tours of the Historic KPH Receiving Station from noon to 4 pm. Visitors can experience Morse code being sent and received, and even send a radiogram to someone. However space at the station and staff time are limited so individuals and groups who want to assure admission should make a reservation by email.
Night of Nights
Night of Nights is an annual event held on the 12th of July by the Maritime Radio Historical Society to commemorate the history of maritime radio and the closing of commercial Morse operations in the USA. These on-the-air events are intended to honor the men and women who followed the radiotelegraph trade on ships and at coast stations around the world and made it one of honor and skill. Visit our Night of Nights page or the Maritime Radio Historical Society site for more details about this event.
Feel free to contact the MRHS by email or by calling 415-990-7090 for more information about the weekend tours or about Night of Nights.
Last updated: May 20, 2023