Point Reyes Lighthouse 150th Anniversary Celebration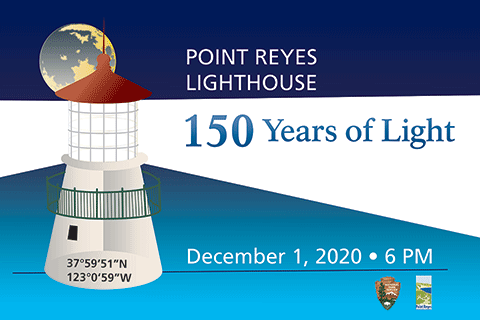 150 Years of Light
Date: Tuesday, December 1, 2020
Time: 6 pm until 6:30 pm
Hosted by the Point Reyes National Seashore Association.
Happy 150th Birthday, Point Reyes Lighthouse!
The public was invited to celebrate 150 years of light at Point Reyes with a virtual birthday bash with all the park rangers here! Built in 1870 and first lit on December 1 of that year, this beacon was an important signal for the guidance and safety of mariners who traveled up and down the Northern California coastline. The National Park Service has preserved this historic building and original Fresnel lens since 1975, and continues to tell the story of the light to visitors from far and wide today. Even if you missed the initial broadcast of this special virtual birthday celebration for our favorite lighthouse, you can still learn about this coastal treasure. The presentation was recorded and is available for viewing on our Point Reyes Lighthouse 150th Anniversary Celebration multimedia page.
Pre-recorded Multimedia
A condensed virtual visit to the Point Reyes Lighthouse. Climb down the 313 stairs to the Point Reyes Lighthouse. Get an up-close look of the first order Fresnel lens and clockwork.

Duration:

1 minute, 56 seconds
A two-minute-long time lapse video of the reconstruction of the Point Reyes Lighthouse's Fresnel lens, which occurred from July 8 through July 13, 2019.

Duration:

1 minute, 58 seconds
A video based on an interview with former Point Reyes National Seashore archivist and curator Carola DeRooy Davis about the history of the Point Reyes Lighthouse.

Duration:

8 minutes, 38 seconds
A current park employee and three park volunteers who help protect and provide visitor services at the Point Reyes Lighthouse share some of their experiences.

Duration:

6 minutes, 51 seconds
A one-and-one-half-minute-long video acknowledging that Point Reyes National Seashore and the Point Reyes Lighthouse are on ancestral Coast Miwok land.

Duration:

1 minute, 36 seconds
About PRNSA:
The Point Reyes National Seashore Association (PRNSA) partners with the National Park Service to create opportunities for all people to experience, enhance, and preserve Point Reyes National Seashore for present and future generations.
If you have any questions or concerns, please email PRNSA.
Last updated: December 17, 2020