2020 Thirty-ninth Annual Sand Sculpture Contest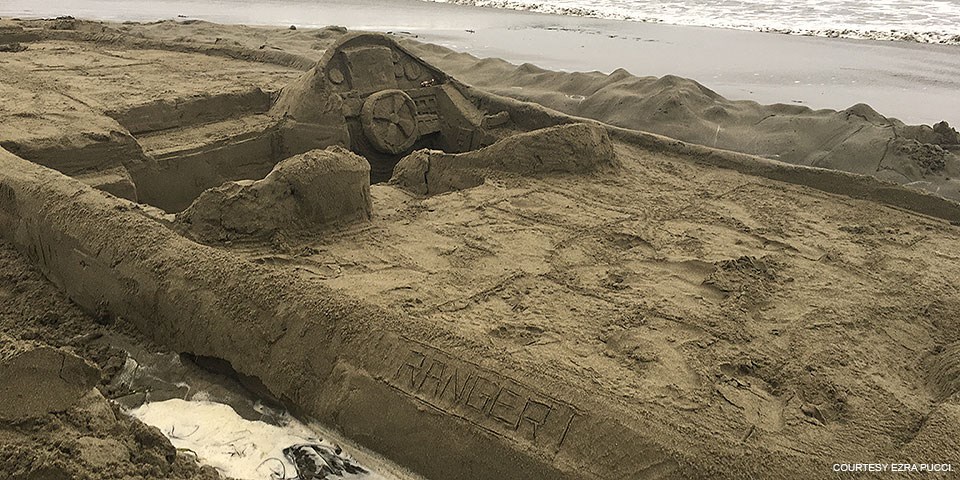 The Thirty-ninth Annual Point Reyes Sand Sculpture Contest was held virtually, due to the COVID-19 pandemic. We welcomed contestants of all ages, from all places, to go to a beach near their home before Sunday, September 13, 2020, and build a sand sculpture masterpiece. Contestants were then to take a photo of their sculpture and upload the photo to their social media profiles with the tags #PRNSSand2020 and #PRNSYes. Three families submitted four sculptures.
If you notice any errors in the names of sculptures or artists, please contact us.
2020 Sand Sculpture Award Results
| Award | Sculpture | Contestant(s) | Location |
| --- | --- | --- | --- |
| 1st Place | Coliseum | Celeste Woo | Drakes Beach |
| 2nd Place | Dune Buggy | Ezra C. | Lake Coeur d'Alene, Idaho |
| 3rd Place | Geyser | Gypsy Road-Schoolers | Lake Coeur d'Alene, Idaho |
| Honorable Mention | Pucci Bass Boat | The Pucci family | Doran Beach, Bodega Bay, California |
Last updated: September 27, 2020