Park Wavelengths - July 2012
Wednesday, July 25, 2012
Forwarded to Park Wavelengths Subscribers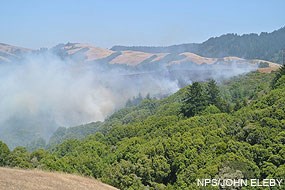 More Fire at Point Reyes: Bolinas Ridge Fire - Monday July 23

A fire on the Bolinas Ridge Trail near the Jewell Trail intersection, thought to be caused by a powerline, was reported at approximately 1400 [2 pm] on Monday afternoon. Wind from the southwest pushed the fire downslope into a riparian woodland. The fire was contained at 5 acres within approximately 2 hours. An investigation to confirm the cause is still in progress.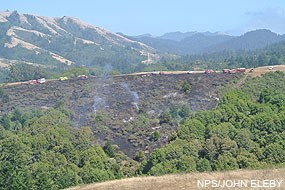 The response by Marin County Fire Department, Novato Fire Protection District, Inverness Volunteer Fire Department, and Cal Fire included 8 engines, 1 dozer, 1 airtanker, 1 helicopter, 2 water tenders, and a 15-person hand crew. Overhead was provided by Marin County Fire Department, the National Park Service, and the Marin County Sheriff's Department.

Firefighters cut fireline on both flanks of the fire. Air resources dropped water and two loads of fire retardant. Dozerline was initiated on the western flank, but was determined to be unnecessary. A National Park Service fire crew continued to patrol the burned area on Tuesday. The burned area will be assessed to determine whether post-fire rehabilitation is needed.

###

See also photos of the fire taken by John Eleby.

Jennifer Chapman
Fire Communication and Education Specialist
S.F. Bay Area National Parks
415-464-5133 TEL / 415-663-8132 FAX
Tuesday, July 24, 2012
Forwarded to Park Wavelengths Subscribers
Subject: You Tube & IJ video: Suppression of Limantour Fire - Saturday July 21

Wildfire Near Limantour Beach - Saturday Afternoon - July 21, 2012

There was extensive video coverage of the wildfire at Point Reyes near Limantour Beach on Saturday afternoon.

Check out these clips on You Tube:

1) retardant drop -
https://www.youtube.com/watch?v=HL82jMrUhZM

2) park visitors with fire in background -
https://www.youtube.com/watch?v=5HwEgpyGH9g

See also Marin IJ article and in depth video coverage at:
http://www.marinij.com/marinnews/ci_21129800/firefighters-douse-flaming-pampas-grass-remote-point-reyes [Ed. note: The vegetation burned was composed mostly of sedges, coyote bush, and willow, not pampas grass.]

The Limantour Fire was reported at approximately 4:00 PM and contained by approximately 5:00 PM.

Engines from Marin County Fire Department and Inverness Volunteer Fire Department responded on scene in addition to local water tenders. Cal Fire engines were also enroute but were cancelled. An air tanker dropped one load of retardant on the fire. A dozer arrived but was not used. NPS fire staff continued to monitor the fire area on Sunday.

The fire was mapped at 1.4 acres.

###

Jennifer Chapman
Fire Communication and Education Specialist
S.F. Bay Area National Parks
415-464-5133 TEL / 415-663-8132 FAX
Wednesday, July 11, 2012
The new moon rises July 18, with low tides in the early mornings:
| | | |
| --- | --- | --- |
| Thursday, July 19 | 6:00 am with the sunrise | -0.5 feet |
| Friday, July 20 | 6:32 am | -0.5 feet |
| Saturday, July 21 | 7:05 am | -0.3 feet |
Blackberries have begun ripening in full sun areas like the borders of the Giacomini Wetlands! Summer continues with brown pelicans diving and splashing in Drakes Bay.
Saturday, July 21 is "Big Time" at Kule Loklo, the Coast Miwok Exhibit near Bear Valley Visitor Center. Bring a picnic and enjoy a day with traditional California dancers, basketmakers, flintknappers, and vendors from 10 am to 4 pm. The event is free, but no pets or alcohol.
New displays at the Bear Valley Visitor Center highlight science projects completed in the park with West Marin School students. Part of the display is a relief map of the local geography created with Dewey Livingston.
Last updated: February 28, 2015