Park Wavelengths - May 2010
Wednesday, May 26, 2010
Forwarded to Park Wavelengths Subscribers:
Subject: Seashore Welcome Reception

Welcome Reception

Dear Friends of Point Reyes,

Please join the Point Reyes National Seashore Association (PRNSA) as we welcome our park's new superintendent, Cicely Muldoon, to Point Reyes.

Thursday, June 10, 2010

6 PM - 7:30 PM

Bear Valley Visitor Center

1 Bear Valley Road Point Reyes Station

At this community event you will have a chance to get to know Cicely, show your support for our new superintendent, and enjoy refreshments with other park enthusiasts. We look forward to seeing you at Bear Valley!

Warm regards,
Mark Bartolini, Executive Director
Don Lloyd, Chair
Point Reyes National Seashore Association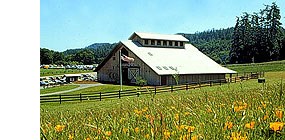 For more information contact:
Point Reyes National Seashore Association
1 Bear Valley Rd, Bldg 70
Point Reyes Station, CA 94956
(415) 663.1200 x304
email
Tuesday, May 18, 2010
The seed ripening moon—"Umchachich-da" for Kashaya Pomo people—rises on May 28 with low daylight tides across the holiday weekend mornings:
| | | | |
| --- | --- | --- | --- |
| Friday, May 28 | 6:05 a.m. | -1.4 feet | sunrise at 5:51 a.m. |
| Saturday, May 29 | 6:46 a.m. | -1.3 feet | sunrise at 5:51 a.m. |
| Sunday, May 30 | 7:27 a.m. | -1.1 feet | |
| Monday, May 31 | 8:08 a.m. | -0.8 feet | |
Snowy plovers begin their annual nesting season. Males may be seen tossing small pebbles over their shoulders to attract a mate. Once they've landed the lady, they line the nest with those pebbles and the males remain to incubate eggs. The ladies often look for other pebble tossers throughout the season! Snowy plovers stay higher on the beaches in the wrack line, not at the waters edge. Nest protection exclosures of string will begin appearing on the Great Beach.
Late spring flowers: orange gold Monkey Flower shrubs are blooming, and plenty of white blooms on the blackberry bushes. The cycles of rain and sun made for a great and late flower season this year. Plenty bush lupine all over Tomales Point.
New rangers beginning this week: Ranger Mike Green arrived from Folsom Recreation Area to care for Tomales Bay State park and John Eleby arrived from Fire Island to join the staff at Point Reyes NS. Superintendent Cicely Muldoon is now at the Bear Valley Headquarters office.
Roadwork began this week on the L Ranch Road, which connects Pierce Point Road to the Marshall Beach trailhead. There could be a five-minute wait as trucks spread aggregate and pack down the surface. Works continues through next week finishing by May 26.
Memorial Day weekend approaches, the official start of summer! All park visitor centers are open through the weekend and on Monday, May 31. Backcountry camps are full for Saturday and Sunday of the holiday weekend.
The annual Memorial Day Ceremony at the Lifesaving Station Cemetery is at 2:00 p.m. on Monday. All are welcomed to join park and Coast Guard staff to honor the sailors who lost their lives at Station Point Reyes.
Tuesday, May 11, 2010
Forwarded to Park Wavelengths Subscribers:
Subject: FILM NOTICE: 5/14/10 Sir Francis Drake Commercial Still Photography of Car - All Day Shoot with CHP for traffic Control

There will be a small crew of 7 shooting still photos along Sir Francis Drake Blvd. past the North District Operations Center for the entire day on May 14, 2010. CHP will provide 5 minute traffic control.

Kevin E. McKay
Special Park Uses/Concessions
Saturday, May 8, 2010
Subject: Weather Balloons
Small weather balloons will be released over Point Reyes National Seashore today through June 19, 2010, as part of a NOAA experiment. The balloons are measuring atmospheric ozone, temperatures, pressure, and humidity. They are not dangerous and will float back to earth on small parachutes. They are marked and, if you find one, they can be mailed back to NOAA and reused.
Wednesday, May 5, 2010
The new moon on May 13th continues the spring summer cycle of daylight low tides:
| | | | |
| --- | --- | --- | --- |
| Friday, May 14 | 5:56 a.m. | -1.1 feet | sunrise at 6:01 a.m. |
| Saturday, May 15 | 6:37 a.m. | -1.3 feet | sunrise at 6:00 a.m. |
| Sunday, May 16 | 7:21 a.m. | -1.4 feet | sunrise at 5:59 a.m. |
The pre-noon lows move later in the morning through May 20th.
The wind season is here! The Lighthouse has regularly been clocking averages in the 40's (gale force) and higher which closes the steps. Check ahead if you are hoping to descend the 308 steps at (415) 669-1534 or the webcam. By June, the fog should be back!
Early summer wildflowers are beginning. Tangerine Sticky Monkey Flowers on the Estero Trail have joined the blooming Douglas iris. Huge white Cow Parsnip flowers are all along roadways. The thick ridged stalks are 5–6 feet high with dinner plate sized blooms and maple shaped leaves.
A tagged coho salmon recaptured in Olema Creek yielded some positive data. When tagged it weighed 14.06 grams and measured 116 mm. A year later it weighs 33.04 grams and measured 149 mm—an indication that there is some good eating! Salmon populations have been affected by a lack of food in ocean waters. Putting on weight in fresh water will help in the transition to the sea.
Plenty of eats on land for the elk. Learn more about tule elk diets this Thursday, May 6 in a free brown bag luncheon presentation at 12 noon at the Red Barn Classroom.
A new art shows is on display at Bear Valley Visitor center: "Ancient Process, New Perspectives" by Elizabeth Setten, using indigenous plant materials to create new colors and art materials. The Visitor center is open 7 days a week and the display will be up for May and June.
Last updated: March 22, 2018