Popular Overlook Collapses at Point Reyes National Seashore
Date:
March 22, 2015
Contact:
John Dell'Osso
, 415-464-5135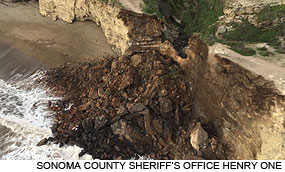 On Saturday, March 21, a portion of the land at the Arch Rock overlook at Point Reyes National Seashore collapsed into the waters 70 feet below. Two people who were standing near that location fell. Both individuals were evacuated from the scene. One individual died shortly after evacuation. One individual received non-life threatening injuries. The visitors' names have not been released, pending family notification.
The Arch Rock trail has been closed until further notice.
National Park Service, Marin County Fire Department, Sonoma County Sheriff's Office Henry 1, Marin County Sheriff's Office, and United States Coast Guard personnel provided emergency response and incident management.
This area is a well-known and popular visitor destination at Point Reyes National Seashore.
-NPS-
Last updated: March 22, 2015