Point Reyes National Seashore Recruiting for Tule Elk Docent Volunteers for the Summer of 2014
Date:
July 1, 2014
Contact:
Doug Hee
, 415-464-5145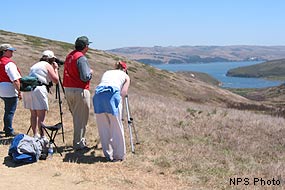 Point Reyes National Seashore is currently recruiting and accepting applications for Tule Elk Docent Volunteers for the summer of 2014. Tule Elk Docents help strengthen the connection with and foster stewardship of Point Reyes National Seashore among park visitors by helping visitors view, understand, and appreciate the elk during the rut, or mating season. Docents educate visitors about the various management issues relating to the tule elk in Point Reyes National Seashore and provide general park information and assistance to visitors. Training is scheduled for July 12 and 20, 2014.
Benefits to the docents include working in a beautiful park setting; experiencing and learning about Point Reyes National Seashore; receiving training from park managers about the park's tule elk and related resources; and deriving satisfaction in serving and educating a variety of park visitors while helping to protect the park's tule elk.
Essential qualities of Tule Elk Docent Volunteers include: interest and desire to serve others; good oral communication skills; and abilities to interact with a variety of people and to work as part of a team and independently. Docents must also be able to tolerate long periods of standing in changing weather conditions and be able to carry up to 15 pounds of materials a distance of up to 1 mile. Time commitment is a minimum of 6 weekend/holiday days from August through October.
For more information or to apply online, please visit our Tule Elk Docent page or contact Doug Hee at (415) 464-5145 or by email.
Point Reyes National Seashore is located one hour north of San Francisco on the Marin coast and encompasses over 71,000 acres, including 32,000 acres of wilderness area. Over 2.5 million people visit the park annually. Estuaries, windswept beaches, coastal grasslands, salt marshes, and coniferous forests create a haven of 80 miles of unspoiled and undeveloped coastline. Abundant recreational opportunities include 150 miles of hiking trails, backcountry campgrounds, and numerous beaches.
-NPS-
Last updated: February 28, 2015