GirlTrek Outing at Point Reyes National Seashore
Date:
September 25, 2013
Contact:
John Dell'Osso
, 415-464-5135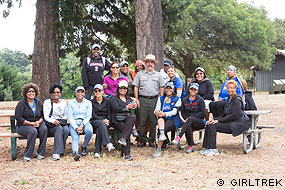 On Saturday, August 31, a group of 22 women representing GirlTrek from the greater San Francisco Bay Area came to Point Reyes National Seashore with a goal in mind: to hike the Bear Valley Trail to Arch Rock and back, an 8.5 mile, round-trip hike, and to promote having a healthier lifestyle and committing to maintain that lifestyle.
GirlTrek is a nonprofit organization that mobilizes women and girls to address the obesity crisis in African American communities. It does this by inspiring women to take a universally available and achievable first step towards a healthier lifestyle: walking. Through grassroots organizing and a vibrant social media network, GirlTrek knits these individual efforts into a national movement dedicated to improving personal fitness.
GirlTrek hosted its inaugural walking challenge in 2010. By 2011, the organization supported teams across the country and attracted a robust following on social media. Today, GirlTrek represents 125,000 supporters, 175 trek teams and over 12,000 walkers. GirlTrek is a 501(c)3 nonprofit organization headquartered in Washington, DC. More information is available at www.girltrek.org.
The National Park Service Office of Public Health is working with GirlTrek to promote national parks as places to take their walks. A Call to Action is a call to all National Park Service employees and partners to commit to actions that advance the Service toward a shared vision for 2016 and the second century of America's best idea. As part of this NPS plan, one goal is called Take a Hike and Call Me in the Morning, which encourages the health community's use of parks as a healing tool and increase citizen recognition of the value of parks to improve health and well-being across the country.
Encouraged by growing evidence that spending time in nature improves physical and mental health, the Healthy Parks, Healthy People: Bay Area (HPHP: Bay Area) collaborative effort was created to increase opportunities to improve the health and wellbeing of all Bay Area residents, especially those with high health needs, through regular use and enjoyment of parks and open spaces. Point Reyes National Seashore is a member of HPHP: Bay Area.
-NPS-
Last updated: February 28, 2015