Weekday Closures on Limantour Road during October 2013 at Point Reyes National Seashore
Date:
September 24, 2013
Contact:
John Golda
, 415-464-5143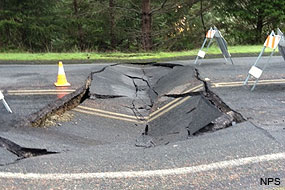 Limantour Road at Point Reyes National Seashore will be closed for repairs on weekdays from 8 am until 5 pm beginning on Monday, September 30, 2013. The closure will be in effect up to 30 days. Limantour Road will be open to traffic all day on weekends, as well as overnight from 5 pm until 8 am on weekdays. The closure is required to replace a failed culvert before the arrival of the winter rains.
This project will restore Limantour Road to two lanes of traffic and provide access to a popular destination at Point Reyes National Seashore. On New Year's Day 2013, a 48-inch culvert under the road near Bear Valley Road failed, causing a section of roadway to collapse. The road was quickly stabilized and one lane was opened to traffic, providing visitors and residents with access to Limantour Beach and the surrounding area. This work will replace the culvert, protect the drainage, and restore a critical section of road. With a spectacular beach, popular trails, and educational and hostel facilities, the area is a destination for over 150,000 park visitors every year.
For more information, visit our website at https://www.nps.gov/pore.
-NPS-
Last updated: February 28, 2015