BayWood Artists Paint Point Reyes National Seashore
Date:
August 27, 2013
Contact:
John Dell'Osso
, 415-464-5135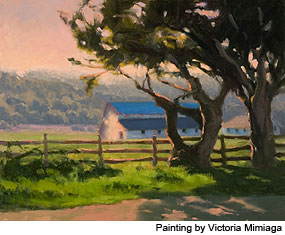 This Labor Day weekend the natural beauty of Point Reyes National Seashore will be painted by BayWood Artists, featuring some of the best known landscape artists in California. This art exhibit is not to be missed! The show is sponsored by the Point Reyes National Seashore Association and the National Park Service.
BayWood Artists is a group of professional Northern California artists dedicated to helping preserve and protect areas recognized as particularly beautiful and important to future generations.
It is truly a gift when we can enjoy the wild open space and be part of Mother Nature's work of art. Point Reyes National Seashore is the treasure we behold in our backyard, one that is vital for our future generations' appreciation of natural beauty and the great outdoors.
In recognition of the effort of preserving our parks, the award-winning BayWood Artists come together in giving back to the community through their art. Some of the most famous American landscape artists feature some of their best paintings in this art exhibit. The artists have gone to great lengths to capture the light and beauty of landscape and seascape of areas that are not easily accessible in order to create paintings; a window to the world of nature that we all have come to love.
Half of the proceeds from this fundraising event will go to Point Reyes National Seashore Association (PRNSA) to benefit the environmental protection of Point Reyes National Seashore.
WHEN AND WHERE: The Red Barn, Point Reyes National Seashore, Bear Valley Road, Point Reyes Station, 94956.
August 31 through September 2, noon to 5 pm.
Artist reception on August 31, noon to 5 pm. Additional viewing by appointment, September 5-30 415-464-5125.
For further information, call 415-663-1200 x309.
-NPS-
Last updated: August 27, 2017