Request for scoping comments regarding a proposed telecommunication facility on Point Reyes Hill in Point Reyes National Seashore
Date:
June 20, 2013
Contact:
John Dell'Osso
, 415-464-5135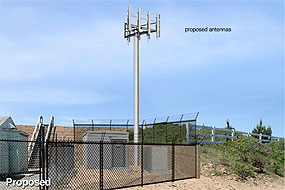 The National Park Service (NPS) is preparing an Environmental Assessment in accordance with the National Environmental Policy Act (NEPA) to evaluate an application from Verizon Wireless (the Applicant) for a ten (10) year right-of-way permit to install, operate, and maintain a commercial wireless telecommunication facility on Point Reyes Hill within the area zoned "Radio Range Station" at Point Reyes National Seashore in western Marin County.
The NPS is committed to managing natural and cultural resources to support their protection, restoration and preservation while also providing opportunities for visitor use and enjoyment of park resources. The NPS will evaluate the application under the Telecommunications Act of 1996 and in accordance with other applicable laws, regulations, and policies.
The 45-day public scoping period is intended to engage the public in this NEPA process which will evaluate the effects of the potential issuance of a right of way permit for the commercial telecommunications facility. The scoping period closes on August 7, 2013. The NPS encourages public participation throughout the NEPA planning process and anticipates that an Environmental Assessment (EA) will be the appropriate NEPA document for the proposed project. The NPS invites the public to submit written suggestions, comments, and concerns to help develop the scope of the EA. Scoping comments could address, for example:
Concerns and potential impacts of the proposal,
Relevant effects of past actions, or
Possible alternatives to the proposed project that should be considered.
There are two opportunities for the public to comment: 1) now, during this initial scoping period for the EA and 2) during the public comment period following publication of the EA. The results of the NEPA process will be used to inform the decision of whether a permit should be issued.
Comments may be submitted online, by regular mail or by hand delivery at the Seashore Headquarters.
The preferred method for commenting is via the internet through the NPS Planning, Environment and Public Comment site at https://parkplanning.nps.gov/pore. From the main page, click on the Verizon Wireless Tower EA link, and then on the "Scoping Letter" link to comment.
Comments may be mailed to "Verizon Wireless Proposal; c/o Superintendent; Point Reyes National Seashore; 1 Bear Valley Road; Point Reyes Station, CA 94956". Comments post marked after August 7, 2013 will not be accepted.
Comments may be hand-delivered to the Seashore Headquarters at 1 Bear Valley Road, Point Reyes Station. Office hours for hand delivery are Monday through Friday between the hours of 8:30 am and 4:30 pm.
Comments will not be accepted by FAX, e-mail, or in any manner other than the three methods previously specified. Bulk comments in any format (hard copy or electronic) submitted on behalf of others will not be accepted. Before including your address, phone number, e-mail address, or other personal identifying information in your comment, you should be aware that your entire comment—including your personal identifying information—may be made publicly available at any time. While you can request within your comment that your personal identifying information be withheld from public review, we cannot guarantee that we will be able to do so.
- NPS -
Last updated: February 28, 2015