Special Memorial Day 2013 Commemorative at the Historic Coast Guard Cemetery and Lifesaving Station
Date:
May 22, 2013
Contact:
Nick Weber
, 415-464-5130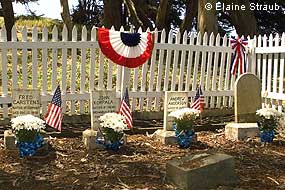 Honoring a Tradition of Life Saving at Point Reyes National Seashore
Please join the National Park Service and the United States Coast Guard on Monday, May 27, in a ceremony and convocation honoring the sacrifice of men of the U.S. Life-Saving Service who gave their lives serving this nation along the shores of Point Reyes. The annual Memorial Day ceremony will be held at 2 pm at the historic G Ranch cemetery. There will be an open house at the historic Point Reyes Lifeboat Station at Chimney Rock from 4 pm to 5 pm.
With towering waves, treacherous currents, and impenetrable fog, the coastline of Northern California has always been a dangerous one. These shores have witnessed loss of life and cargo in hundreds of shipwrecks. The first Life Saving Station on Point Reyes Beach was established in 1890. Men patrolled stormy beaches and prepared to do all they could to protect the public. In those first years of service, four surf men gave their lives while serving in the U.S. Life-Saving Service. Later, as technology improved and as a part of the United States Coast Guard, the station was moved to Drakes Bay in 1927. Two more men died while rescuing others in 1960. Their station, now a National Historic Landmark, operated until 1969. While the technology and training has improved the ability to save lives, the risk and the danger have never disappeared.
"Point Reyes National Seashore is proud to tell the story of the heroism and courage of the U.S. Life Saving Service," says Park Superintendent Cicely Muldoon. "We honor their sacrifice this Memorial Day, and stand with our colleagues in the United States Coast Guard in our common dedication to public safety."
Directions to the cemetery and the Point Reyes Lifeboat Station can be found on the park website at https://www.nps.gov/pore, at the Bear Valley Visitor Center at Point Reyes National Seashore, or by calling (415) 464-5100 x2 x5.
For more information, visit our website at https://www.nps.gov/pore.
Commemorating 50 years of Point Reyes National Seashore, 1962-2012
-NPS-
Last updated: February 28, 2015