Point Reyes National Seashore Hosts Earth Day 2013 Electronics Recycling Collection
Date:
April 8, 2013
Contact:
John Dell'Osso
, 415-464-5135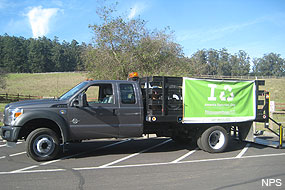 On April 22, at the Bear Valley Visitor Center, from 10 am to 2 pm, Point Reyes National Seashore will host an electronic waste (e-waste) recycling collection, joining thousands of local organizers holding recycling and other events across the country to celebrate Earth Day, the only nationally and globally recognized day dedicated to promoting and celebrating planet Earth and the protection of its resources.
Please note the following items will be accepted:
All computers and related accessories and peripherals
Cell phones, PDAs, and telephones
Audio/video equipment
Small printers, scanners, and faxes
Wires, cables, and power cords
Printer toner and inkjet cartridges
Small kitchen appliances
The following items will NOT be accepted:
Dry cell batteries (AA, AAA, D, etc.)
Light bulbs of any kind
Large household appliances such as refrigerators and stoves
Furniture
Commercial copy machines
NO HAZARDOUS WASTE
"We are looking forward to helping our community safely and responsibly recycle their electronic waste," says Point Reyes National Seashore Engineering Technician Dale Dualan.
All e-waste will be taken to Renew Computers in San Rafael, California, for recycling. For more information about e-waste recycling at Point Reyes National Seashore contact Dale Dualan at 415-464-5286.
Download the flyer. (229 KB PDF)
-NPS-
Last updated: February 28, 2015