Limantour Road Opened to Vehicles at Point Reyes National Seashore - January 4, 2013
Date:
January 4, 2013
Contact:
John Golda
, 415-464-5143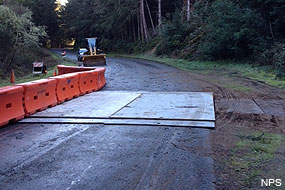 Limantour Road at Point Reyes National Seashore will be reopened at 2 pm on Friday, January 4, 2013. The road has been stabilized and temporary measures will provide access until permanent repairs to the road can be carried out in the next few months.
Limantour Road will be opened with one lane of traffic coordinated by stop signs at the site of the repair work. The location of the repairs to Limantour Road is about one and a half miles from the intersection of Limantour and Bear Valley Roads. While additional signs will alert drivers as they approach the area, drivers are urged to use caution while on Limantour Road.
The popular road was closed on Monday morning when a failed culvert caused a section of the roadway to collapse. Park staff have stabilized the road and opened it to traffic, providing visitors and residents with access to Limantour Beach and the surrounding area. With a beautiful beach, popular trails, and educational and hostel facilities, the area is a destination for over 150,000 park visitors every year.
"I am proud of the work this staff does. In a very short time, they have succeeded in opening the road and have provided the public with access to a spectacular part of Point Reyes National Seashore. Limantour Beach is an important place for a lot of visitors," says David Schifsky, Acting Park Superintendent.
For more information, visit our website at https://www.nps.gov/pore.
Commemorating 50 years of Point Reyes National Seashore, 1962-2012
-NPS-
Last updated: February 28, 2015