Limantour Road Closed at Point Reyes National Seashore - December 31, 2012
Date:
December 31, 2012
Contact:
John Golda
, 415-464-5143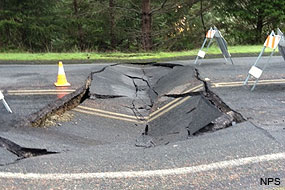 Limantour Road at Point Reyes National Seashore has been closed due to the failure of a culvert beneath it. A large gap appeared in the roadway, making it impassable. Limantour Road will remain closed until park engineers and road crew can assess the damage and begin repair work.
"It is terrible to have to start the New Year like this. Limantour Beach is a very popular destination and opening the road is a top priority for us. We are sorry for the inconveniences this causes, but safety for the public and local residents is the most important thing", said David Brouillette, Acting Superintendent of Point Reyes National Seashore.
This closure affects vehicle access to Limantour Road and the surrounding area, such as the Sky and Coast Trailheads, the Clem Miller Education Center, the Point Reyes Hostel, and Limantour Beach. Even though the road is closed, all park facilities and trails remain open. There are numerous alternatives for hiking and enjoying park beaches. Campers at Coast and Sky Campgrounds should consider staging their trips from the Bear Valley Visitor Center.
More information on opening Limantour Road will be provided once the nature of stabilizing the road and making repairs is determined.
For more information, visit our website at www.nps.gov/pore.
Commemorating 50 years of Point Reyes National Seashore, 1962-2012
-NPS-
Last updated: February 28, 2015