Help Point Reyes Celebrate our 50th Anniversary and View the YouTube Point Reyes Video
Date:
April 27, 2012
Contact:
John A. Dell'Osso
, 415-464-5135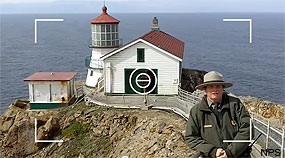 For National Park Week this year, the National Park Service is featuring park videos to encourage people to "picture themselves at national parks."
After picturing yourself at Point Reyes National Seashore, come out and enjoy this beautiful national park and help us commemorate our 50th Anniversary this year. How about hiking one of the 150 miles of trails? Walking some of the most pristine beaches in the area? There are opportunities to learn more about the human history of the area beginning with thousands of years of Coast Miwok Indian history; the dedicated service of the Lighthouse and Life Saving Service personnel; and the rich legacy of dairy and beef ranching that continues today. This time of year, stunning opportunities exist for viewing the natural world. Spring provides carpets of wildflowers along the coastline and a diversity of wildlife that can be seen throughout the Seashore.
The "National Park Week 2012" YouTube playlist, can be found at:
https://www.youtube.com/playlist?list=PL704A09B9F5B3605D. The playlist includes all the videos in alphabetical order. 
The videos are already making a splash on social media as well and can be viewed on:
-NPS-
Last updated: February 28, 2015