Entangled Elephant Seal Freed after Two Years
Date:
January 13, 2012
Contact:
John A. Dell'Osso
, 415-464-5135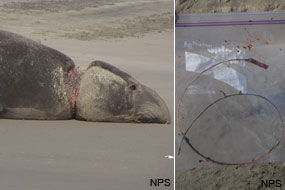 Recently, staffs from Point Reyes National Seashore and The Marine Mammal Center (TMMC) were able to catch an elusive northern elephant seal who, for over two years, has been seen with a strap entangled around its neck. The seal has been eluding biologists who have been trying to sedate the seal and remove the strap which was digging into its neck since at least 2009.
The large subadult male seal (estimated to be between 700-1,000 lbs.) is approximately five years old. In order to remove the thick white packing strap that was wrapped tightly around his neck, the seal was first approached and sedated, then had his head covered with a towel to calm him down, then veterinarian staff from TMMC located the strap, buried deeply in a wound on the seal's neck and removed it. Finally, the area around the neck was cleaned and the animal quickly returned to the ocean.
In 2004, a female elephant seal at Point Reyes had a similar situation occur but that strap was quickly removed from the seal. She has since been coming back to Point Reyes each year and giving birth to seal pups.
There are currently over 700 elephant seals on the beaches at Point Reyes National Seashore and approximately 220 pups have already been born. Last year, over 600 pups were born on Point Reyes' beaches.
(Images available upon request)
-NPS-
Last updated: February 28, 2015