Point Reyes National Seashore to Host Naturalization Ceremony on Friday, September 16, 2011
Date:
September 13, 2011
Contact:
John A. Dell'Osso
, 415-464-5135
Contact:
Claire Nicholson , 202-288-1637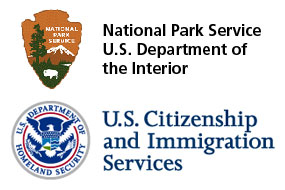 Embrace Citizenship - Experience America Through Your National Parks
Point Reyes Station, CA - 19 candidates from 17 countries will become new citizens during a ceremony at Point Reyes National Seashore on Friday, September 16, 2011. This is one of many naturalization ceremonies taking place in national parks during Citizenship Week under a partnership between the National Park Service and U.S. Citizenship and Immigration Services. The theme is "Embrace Citizenship - Experience America through your National Parks."
Some of the countries represented by the candidates include Argentina, Cambodia, Canada, Cyprus, Germany, Guatemala, Mexico, Philippines, Poland, Russia, South Africa, Spain, Sweden, UK, Ukraine, USSR, and Vietnam. 
"How fitting to take the oath of citizenship here at Point Reyes," stated Cicely Muldoon, Superintendent of Point Reyes National Seashore. "National Parks are a uniquely American idea. It is an honor to welcome these new citizens here at Point Reyes National Seashore."
The ceremony will take place at 11:00 a.m. on Friday, September 16, at the Bear Valley Picnic Area at Point Reyes National Seashore. Parking is available adjacent to the picnic area. The National Anthem will be sung by children from West Marin School.
"I can't think of places more appropriate to welcome a new generation of American citizens than national parks," said National Park Service Director Jonathan B. Jarvis. "These parks, which are owned by all Americans, are not only places of stunning natural beauty and abundant wildlife, but across this country the nearly 400 national parks preserve our nation's fascinating history and protect our rich cultural heritage. From the Aztec Ruins National Monument in New Mexico to Ellis Island in New York City, national parks ensure our nation's artifacts and records are protected for generations to come."
The National Park Service and USCIS recently renewed a formal partnership to enhance citizenship ceremonies by holding them in national parks throughout the country. The agreement helps introduce new citizens to some of the nation's most significant natural resources and cultural heritage sites. These historic and picturesque sites provide an ideal backdrop for citizenship ceremonies, where new citizens can learn about and reflect on American identity and the responsibilities of citizenship.
- NPS -
Last updated: February 28, 2015