Removal of Scotch Broom from Point Reyes National Seashore Gears Up
Date:
January 26, 2011
Contact:
John A. Dell'Osso
, 415-464-5135
Contact:
Lisa Michl
, 415-464-5201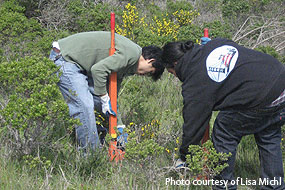 Point Reyes National Seashore has recently begun a daunting project: to remove Scotch broom (Cytisus scoparius) from the Seashore in the next four years. This invasive plant has been in the park for over 35 years and threatens native habitats, including several rare plants and threatened and endangered wildlife. This species also changes soil chemistry, which alters plants that can grow nearby. By removing this plant, we open up room for native species to repopulate.
Scotch broom covers over 270 acres spread across 2,500 acres of the park. The main area is bound by the Estero and located south of Pierce Point Road, west of Mt. Vision Road, and north of Limantour Road. Most of the area is covered in scattered patches, but in the center is the core area, where a thick stand of seven foot tall Scotch broom looms. The project will be divided into two parts, with the first two years focusing on the outer areas and the last two on the inner core, located on the peninsula where N Ranch is located.
A team of park staff, volunteers, interns, and contractors have been tirelessly working since November to remove this tough plant. To date, over 66,000 plants have been pulled on approximately 100 acres. A variety of tools will be used to remove plants, including mechanical removal which is done with a tool called a Weed Wrench™. This tool is used to grasp the stem of the plant and yank it out of the dirt, roots intact.
A little more than 100 infested acres remain in the first part of the project. Each mature plant that is removed eliminates over 10,000 seeds from the seed bank. Come join others in the fight against Scotch broom by volunteering on Sunday, January 30 at 9:00 a.m. Meet at the Bear Valley Visitor Center. Directions to the Bear Valley Visitor Center.
If you would like more information about this topic, please contact Lisa Michl at 415-464-5201 or by e-mail.
-NPS-
Last updated: February 28, 2015