Proposed Fee Increases and Reservation System Changes
Date:
October 27, 2010
Contact:
Loretta Farley
, 415-464-5140
Contact:
John Dell'Osso
, 415-464-5135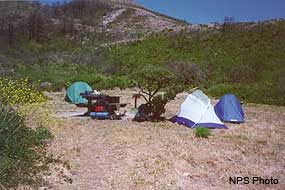 Superintendent Cicely Muldoon announced the public review period for proposed changes to the camping fee structure and reservation system at Point Reyes National Seashore. The park proposes to raise camping fees from $15.00 to $20.00 for an Individual site for 1–6 people; $30 up to $40.00 for a small group site (7–14 people); and $40.00 up to $50.00 for a large group site for (15–25 people). The additional fee revenue will allow the park to join the online nationwide reservations system, allowing more access for reservations than the current limited telephone hours. The new rate structure includes online fees and allows for the possibility of refunds which currently is not available.
National park areas collecting fees keep 80% of the funds. At Point Reyes these fees have contributed to the upgrading of campground water systems, the establishment of permanent restrooms on Tomales Bay boat-in camps, and the establishment of the winter shuttle bus system to reduce congestion and carbon in the park.
The park seeks public input to these proposed changes:
By Email Note: Please write Camping Fees in subject line.


By US Mail:
Point Reyes National Seashore
ATTN: Camping Fees
1 Bear Valley Road
Point Reyes Station, CA 94956

By Phone: 415-464-5140 (seven days a week/business hours 9:00 a.m. to 5:00 p.m. PST)


In Person: Complete a Visitor Comment Form at any park visitor center.


FAX: 415-464-5149
Comments should be returned by March 31, 2011, in any of the above formats.
-NPS-
Last updated: June 19, 2022