Volunteers Track Non-Native Plants in National Parks
Date:
April 6, 2010
Contact:
Natalie Howe
, 415-464-5201
Contact:
Robert Steers
, 415-331-0639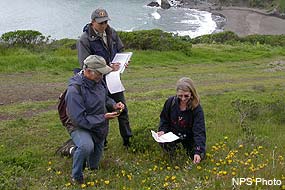 Approximately 32 percent of the plant species in the National Parks of the San Francisco Bay Area are non-native. Among them are highly invasive species, such as French broom or pampas grass, which spread rapidly and alter the landscape and scenery in and around our parks. Not only do they change the visitor experience, they may increase fire risk, destroy habitat for rare or endangered plants and animals, and become very expensive to control as they continue to spread.
Park scientists have found if they can locate highly invasive plant species before they become widely established, it is far more cost effective to control them than to wait until the plants have spread over many acres. The parks have identified at least 200 species of highly invasive plants that are not yet wide spread but could spread quickly if they become established. Among them are periwinkle, capeweed, Portugese broom, purple starthistle, and many more.
Volunteers are now helping Golden Gate National Recreation Area, Muir Woods National Monument, Pinnacles National Monument, and Point Reyes National Seashore to prevent the spread of new invasive plant species through the Weed Watcher Program. Volunteers learn to identify species that are highly invasive and search for them along roads and trails, where many alien plants first establish. By locating and mapping new invasive plant species, the parks can respond by removing these alien species before they become more problematic. For example, last year 19 volunteers put in more than 1050 hours and helped survey over 350 miles. Due to these efforts by our volunteers, much of the plant infestations have already been removed by park staff.
Anyone interested in participating as a Weed Watcher can attend one of the training workshops. Point Reyes National Seashore will host a variety of Weed Watcher Trainings, the first two will be held Thursday, May 13 and Sunday, May 16 from 10 a.m to 1:30 p.m. in the Red Barn Classroom at 1 Bear Valley Rd, Point Reyes Station, CA. To attend the training, RSVP to Natalie Howe at 415-464-5201 or by email. More information and other trainings are available at weedwatcher.org.
-NPS-
Last updated: February 15, 2019