"The National Parks: America's Best Idea" Film Screening at Dominican University of California on September 17, 2009
Date:
September 10, 2009
Contact:
John Dell'Osso
, 415-464-5135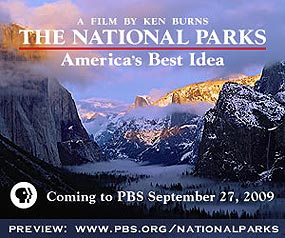 On Thursday evening, September 17 from 7:00 to 8:30 p.m., Point Reyes National Seashore, Point Reyes National Seashore Association and Dominican University of California will host a preview of the upcoming PBS series, The National Parks: America's Best Idea by Ken Burns and Dayton Duncan. Doug McConnell of Bay Area Backroads and Open Road.TV fame will emcee this free event.
Additionally, a sneak preview of the not yet completed documentary by Nancy Kelly, Moments in Time, will be showed. This documentary will chronicle the struggle to preserve open space and agricultural lands in Marin and Sonoma Counties.
This event is also sponsored by Sierra Club Marin Group, National Parks and Conservation Association, the Environmental Action Committee of West Marin, KQED, KRCB, and all of the National Parks in the San Francisco Bay Area.
Carpooling to this event is recommended. Dominican University of California is located at 50 Acacia Avenue in San Rafael. The viewing will take place in Angelico Hall.
-NPS-
Last updated: February 28, 2015