Amateur Radio Activation at the Point Reyes Lighthouse
Date:
August 3, 2009
Contact:
Melinda Repko
, 415-464-5134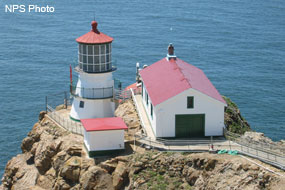 Point Reyes Lighthouse
Friday August 7 & Saturday August 8, 2009
Each Year the Amateur Radio Lighthouse Society (ARLHS) sponsors several activities to increase awareness of our lighthouse heritage. One of these events includes International Lighthouse-Lightship Week, August 1–9, 2009. To celebrate this international heritage event, the ARLHS, in partnership with Point Reyes National Seashore, will broadcast from the Point Reyes Lighthouse. Visitors to the Point Reyes Lighthouse are invited to view the temporary radio station from 10 a.m. to 4:30 p.m. on Friday, August 7, & Saturday, August 8, 2009. They will broadcast from the green garages located near the Point Reyes Lighthouse Visitor Center area.
The Point Reyes Lighthouse first shown December 1st, 1870. This treacherous point, once characterized as "the worst the Pacific has to offer" (SF Chronicle, 1870), was lit to guide mariners safely past Point Reyes. In 1870, as many as four men employed by the US Government's Lighthouse Board were stationed at Point Reyes. With the aid of lighthouse keepers, the Point Reyes Light Station remained in operation for 105 years.
Today, The US Coast Guard maintains an automated light and fog signal while Point Reyes National Seashore staff serve as the modern day light keepers to the historic structure. Visitors to Point Reyes National Seashore can view the historic 1870 lens room with its intact first order Fresnel lens and clockwork mechanism. The Point Reyes Lighthouse and Visitor Center are open Thursday–Monday, 10 a.m.–4:30 p.m., with lens room tours from 2:30 p.m. to 4:00 p.m. Winds in excess of 40 mph will close the lighthouse stairs and cancel programs. For additional information, including weather conditions call the Point Reyes Lighthouse at 415-669-1534 or the Bear Valley Visitor Center at 415-464-5100 x2 x5.
Please visit our websites at www.nps.gov/pore or www.arlhs.com.
-NPS-
Last updated: February 28, 2015