Lightning Strike Starts Fire at Point Reyes National Seashore on March 3, 2009
Date:
March 4, 2009
Contact:
John Golda
, 415-464-5143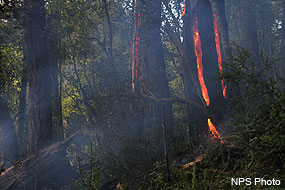 Yesterday afternoon's thunderstorms brought rain, hail, and lightning to Point Reyes National Seashore. Late in the day on Tuesday, March 3, lightning strikes knocked down and ignited two Douglas fir trees overlooking Bear Valley Trail near Divide Meadow, an area popular among hikers and park visitors. The smoldering fire spread from the two trees to the ground immediately below.
The fire was reported this morning at 11:00 am to the Marin County Fire Department. National Park Service and Marin County fire crews quickly responded and are on the scene at this time. The rain soaked conditions at Point Reyes National Seashore slowed the spread of the fire and emergency crews expect the fire to be quickly contained and extinguished. Hikers on the Bear Valley Trail have been detoured around the area for their safety, but trails and roads remain open throughout the park.
"Winter thunderstorms like this can be ferocious and unpredictable. But the rain from these recent storms assisted the fire crews in keeping this incident from growing into something that might have jeopardized the park and its visitors," stated Park Fire Management Officer, Roger Wong.
(INTERNAL NOTE: Mike Gianini from Marin County Fire said that they responded with 1 Type # unit, 1 Type 1 unit, 1 Utility unit, and the Tam Firecrew. NPS deployed 1 engine, a water tender, and heavy equipment support.)
-NPS-
Last updated: February 28, 2015