Fire Safe Landscaping Workshop at Dance Palace May 12, 2008
Date:
April 28, 2008
Contact:
Jennifer Chapman
, 415-464-5133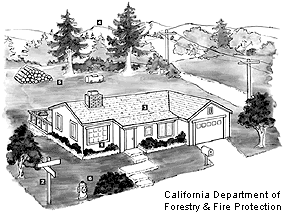 The public is invited to attend a free workshop on Fire Safe Landscaping, co-sponsored by the National Park Service and the Environmental Action Committee of West Marin. The workshop will take place at the Dance Palace Community Center in Point Reyes Station on Monday May 12 from 7: 00 pm to 8:30 pm. The goal of the workshop is to demonstrate why a house is much more likely to survive a wildfire if it is surrounded by appropriate, well maintained vegetation, and non-flammable elements such as rocks and walkways. The workshop will include excerpts from "Marin on Fire" a film recently produced by FIRESafe Marin, and a slideshow with examples of fire prone plants and more fire resistant alternatives. Water conservation and preventing the spread of invasive species will also be emphasized. The workshop will conclude with a brief update on new proposed vegetation management strategies for Marin County.
For more information, call 415-464-5133.
-NPS-
Last updated: February 28, 2015