Sudden Oak Death Study Completed
Date:
March 10, 2008
Contact:
Jane Rodgers
, 415-464-5190
Contact:
Alison Forrestel
, 415-464-5200
Contact:
John Dell'Osso
, 415-464-5135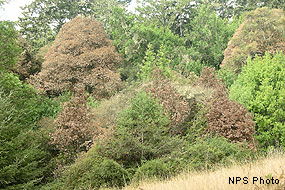 Researchers at the University of California, Berkeley just completed a two year study of Sudden Oak Death at Point Reyes National Seashore. The study, conducted in collaboration with Seashore staff, examined the extent and severity of the disease.
Sudden Oak Death is a forest disease caused by the non-native pathogen, Phytophthora ramorum. P. ramorum causes substantial mortality in tanoak and coast live oak. It also infects the leaves of, but does not kill, a wide variety of other species including California bay, Douglas-fir, and coast redwood. P. ramorum was first identified in the Bay Area in the mid-1990s, but it was not seen at Point Reyes until 2004. Over the last four years, the disease has been spreading through the coast redwood and Douglas-fir forests of Bolinas and Inverness Ridges.
This study is the first time the extent and effects of Sudden Oak Death have been quantified at Point Reyes. A few key findings include:
An estimate of 63% of coast redwood forests, 45% of coast live oak forests, and 24% of Douglas-fir forests at Point Reyes may be infected with Sudden Oak Death.
There were no confirmations of P. ramorum on the west side of Inverness Ridge.
In heavily impacted areas an average of 75% of the tanoak is dead with some areas exhibiting as much as 95% tanoak mortality.
The Seashore plans to continue monitoring the spread of Sudden Oak Death and is also participating in a United States Forest Service research program aimed at developing trees that are resistant to this disease.
A copy of the report from this study is posted on the Point Reyes National Seashore's website at https://www.nps.gov/pore/naturescience/diseases_sod.htm. For more information about Sudden Oak Death please visit http://nature.berkeley.edu/comtf/index.html.
-NPS-
Last updated: February 28, 2015