Join Other Wildlife and Outdoor Enthusiasts in the 2008 Winter Wildlife Docent Program!
Date:
October 29, 2007
Contact:
Melinda Repko
, 415-464-5134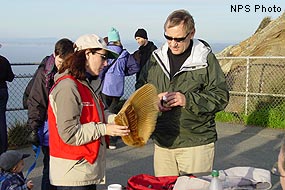 Winter is far from a dormant season at Point Reyes National Seashore. Northern elephant seals haul out on Seashore beaches to give birth and breed. Pacific gray whales are making their annual migration along our shores. Before long, wildflowers will blanket the grasslands with splashes of color. Volunteer docents provide public education and outreach to the many visitors journeying out to the Seashore to enjoy these winter wonders.
New volunteers are required to attend a free three-day training and must agree to work two weekend or holiday days each month, January through March. Training will be held at Point Reyes National Seashore on November 18th and December 1st & 2nd, 2007 from 9:00 a.m. to 4:30 p.m. Training topics will include marine mammal natural history, new research discoveries and marine ecology.
For inquiries, please call Melinda Repko at 415-464-5134.
BACKGROUND INFORMATION
Elephant Seals
The first pair of breeding elephant seals returned to Point Reyes in the late 1970's after over 100 years of absence. The animals for this "new" Point Reyes colony are believed to come from the nearby Año Nuevo and the Farallon Island rookeries.
Currently, the number of elephant seals at Point Reyes National Seashore has topped 1,800 animals. Elephant seals can be found at the Headlands of the Point Reyes between December and late March during the pupping and breeding season, and in the summer months for molting. Their increasing numbers and the creation of satellite colonies on other beaches in the National Seashore has made visitor education a priority with the Winter Wildlife Docent Program.
Pacific Gray Whales
Pacific gray whales complete a 10,000-mile roundtrip journey between Alaska and Mexico every year. By the 1930's, intensive whaling along the California coast caused gray whale populations to dwindle to a mere 1000 individuals. A ban on gray whale hunting adopted in 1937, and an international whaling ban signed in 1946, led to a recovery of this gentle species. The Pacific gray whale population is estimated at 20,000 today. From late December through early April, visitors crowd the Lighthouse and Chimney Rock areas to catch a glimpse of these migrating giants.
Take this opportunity to become an active steward of Point Reyes National Seashore and the wildlife it protects. For more information, please visit our website at www.nps.gov/pore.
-NPS-
Last updated: February 28, 2015