"Broken Wings: Portraits of Non-releasable Raptors" Photography Exhibit
Date:
October 9, 2007
Contact:
Carola DeRooy
, 415-464-5125
Contact:
John Perry
, 415-566-5681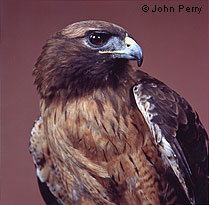 Photographic exhibit "Broken Wings: Portraits of Non-releasable Raptors" is opening now through March 25, 2008 at the Red Barn Classroom at Point Reyes. The exhibition tells the stories of 20 eagles, hawks, falcons, and owls that cannot be released to the wild due to their injuries. These injuries illustrate a complex interaction between humans and natural world.
Photographer and naturalist, John Perry, tells each raptor's story through a portrait and text that relates each bird's life history. Unlike other images of raptors, the "Broken Wings" exhibit portrays each subject as an individual with a unique story, and each story educates viewers about the plight of raptors and how to help protect them. "I want viewers to feel a connection to raptors and the natural world, and at the same time inspire them to help protect these magnificent predators," says Perry. "Broken Wings" features an introduction by Allen Fish, a renowned raptor biologist and director of the Golden Gate Raptor Observatory. Fish writes in his introduction, "The lives of wild raptors are both magnificent and vulnerable. And we owe it to them to try to understand their real lives as they hunt and nest, and as they survive and die."
The public is invited to attend the artist lecture, which will be on Saturday, December 15, 2007 starting at 2 PM. Perry will discuss the creation of the exhibit and highlight some of the threats raptors face in the wild. The gallery is open by appointment only Mon-Friday 9-4. Call 415-464-5125 or 415-464-5218 to schedule a viewing. The Red Barn Classroom is located at the Point Reyes National Seashore, 1 Bear Valley Road, Point Reyes Station, CA 94956.
About the Photographer
John Perry is a professional portrait photographer and has worked with such clients as the San Francisco Shakespeare Festival, the San Francisco Bay Guardian, Renaissance Pleasure Faires and Whole Foods Market. Perry's passion for raptors started as a volunteer hawk bander and docent for the Golden Gate Raptor Observatory. He has worked as a naturalist for Coyote Point Museum for Environmental Education, Hostelling International, and the San Francisco Zoo.
Financial Support
Financial support for the "Broken Wings" exhibit is provided by Newman's Own Organics, the Golden Gate Raptor Observatory and Lightwaves Photographic.
Contact Information

| | |
| --- | --- |
| John Perry | Red Barn Classroom |
| 4211 Moraga St, #3 | Point Reyes National Seashore |
| San Francisco, CA 94122 | 1 Bear Valley Road |
| (415) 566-5681 | Point Reyes Station, CA 94956 |
| email | (415) 464-5125 |
| www.jperryphoto.com | email |
Last updated: February 28, 2015