Repairs Underway of Home Ranch Historic Buildings
Date:
July 5, 2007
Contact:
John Dell'Osso
, 415-464-5135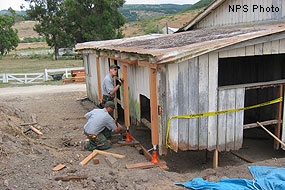 Rehabilitation work has begun on several historic structures at the Drakes Bay Hereford Ranch, on Drakes Estero in Point Reyes National Seashore. Known historically as the Home Ranch, it is the most significant ranch in the park. It was the first ranch constructed by the Shafter brothers as they built their dairy empire beginning in 1857. Using the ranch as a base of operations they went on to develop 31 dairies by 1872. The ranch empire covered most of the lands now encompassed by the Seashore, from Bolinas north to Pierce Ranch, and west to the lighthouse. Since 1929 the ranch has been lived in and maintained by five generations of the Murphy family. Today the ranch is home to Anne Murphy and her children. Since 2005, Merv McDonald has held the grazing permits for the ranch. The Home Ranch is part of the Point Reyes Ranches Historic District, which has been determined eligible for listing on the National Register of Historic Places.
The Seashore Historic Preservation Crew will be rehabilitating several buildings, starting with the Main Barn (constructed 1880); Machine Shop (1925); Garage (1945); Tool Shed (1865) and Wood Shed (1945). The work requires skill in timber framing and other older construction methods. This highly skilled team works on historic structures throughout the Seashore and in other National Parks throughout the country. This phase of work will be completed in September 2008.
The Preservation Crew approaches work on historic structures with care and skill. They retain as much historic material as possible, repairing before replacing, and replicating historic construction materials and methods. As a result, they go to great lengths to repair rather than replace building features. An example would be using Dutchman repairs on an old wood window sash rather than replacing the entire sash, unless the sash is so deteriorated that it cannot be repaired. This labor-intensive approach to park historic structures is mandated by law and described in detail in the Secretary of the Interior's Standards for rehabilitating historic structures. These standards guide both federal preservation work and privately funded projects where historic preservation tax credits are sought.
Seashore preservation projects are often collaborations with the ranchers and private contractors, making the most of individual skills. For example, to repair a sagging barn roof, the approach would be for a roofing contractor to strip the roof, the Seashore crew to repair timber framing, rafters and skip-sheathing using materials bought by the rancher, followed by the contractor installing new shingles. It is an efficient approach to maintaining the historic integrity and character of complicated old buildings.
-NPS-
Last updated: February 28, 2015