27th Annual Big Time Festival At Kule Loklo
Date:
June 26, 2007
Contact:
Loretta Farley
, 415-464-5140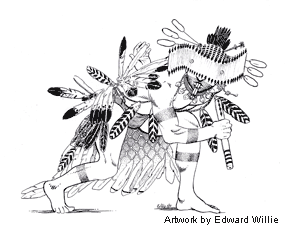 Please join us for this traditional Native American trade festival at Kule Loklo, Point Reyes National Seashore. The annual festival will be held for Saturday, July 21, 2007, from 10:00 a.m. to 4:00 p.m., at Kule Loklo, a Coast Miwok Cultural Exhibit. Throughout the day demonstrators will exhibit their skills in basketry, flint knapping, clamshell-bead making, and more. Learn about Coast Miwok culture at informational booths. New vendors will be selling a wide variety of crafts. Traditional dancers from the Intertribal Pomo group and Dry Creek Pomo will perform.
Please be aware that dogs and alcoholic beverages are not allowed at Kule Loklo. Bring a picnic lunch and spend the day. Free parking is available at the Bear Valley Visitor Center where you may access the 0.4-mile long trail leading to Kule Loklo. This event is great for the whole family and is free of charge. For more information please call the Bear Valley Visitor Center at (415) 464-5100 x2 x5.
-NPS-
Last updated: February 28, 2015