Accepting Applications for the 2007 Snowy Plover Docent Program
Date:
May 2, 2007
Contact:
Kristen Truchinski
, 415-464-5210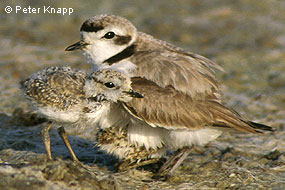 Point Reyes National Seashore is currently accepting applications for the Snowy Plover Docent Program for the summer of 2007.  Snowy Plover Docents help protect threatened nesting snowy plovers from disturbance by contacting park visitors on the beach and informing them about the seasonal beach closure to dogs; educate visitors about the natural history, plight, and protection of the snowy plovers in Point Reyes National Seashore; and provide general park information and assistance to visitors.
The program runs 15 weekends from Memorial Day weekend through Labor Day Weekend 2007.  Docents are asked to commit at least 1 weekend day every 2 weeks for a total of 6 weekend days during the program.  Docents will work 6 hours each day.  A required training is scheduled for Sunday, May 20th at the Seashore headquarters.
Snowy Plover Docents have the opportunity to work at two locations on the GreatBeach in Point Reyes National Seashore.  Docents receive training and education about the western snowy plovers and related park resources and enjoy the satisfaction in helping to protect a threatened bird species.
Docents enjoy learning about natural history and sharing this knowledge with others.  Good oral communication skills, including tactfulness, and the ability to work independently are essential.  Docents must also be able to tolerate long periods of standing, changing weather conditions, and be comfortable around dogs.  Minimum age is 18 years.
Please contact Kristen Truchinski at 415-464-5210 or by email for more information.  Prospective docents may also apply online at www.volunteer.gov/gov (search for "Point Reyes").
Point Reyes National Seashore is located one hour north of San Francisco on the Marin coast and encompasses over 71,000 acres, including 33,000 acres of wilderness area.  Over 2.5 million people visit the park annually.  Estuaries, windswept beaches, coastal grasslands, salt marshes, and coniferous forests create a haven of 86 miles of unspoiled and undeveloped coastline.  Abundant recreational opportunities include 147 miles of hiking trails, backcountry campgrounds, and numerous beaches.
-NPS-
Last updated: February 28, 2015