Critical Culvert Repair will Close Bear Valley Trail for One Week
Date:
October 23, 2006
Contact:
John Dell'Osso
, 415-464-5135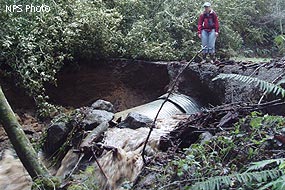 A small section of the Bear Valley Trail will be closed to visitors from Monday, October 23 – Friday, October 27, 2006 for the replacement of a culvert. This closure is a result of 2006 storm damage that the Seashore received funding for. Hikers and equestrians can still access the first section of Bear Valley Trail from the Trailhead parking area to Mount Wittenberg Trail junction. After ascending the Mount Wittenberg Trail, visitors can go onto the Sky Trail then onto Meadow Trail to return to Bear Valley Trail. Visitors are encouraged to pick up a free trail map from the Bear Valley Visitor Center. Bear Valley Creek contains the federally-threatened steelhead trout and this project will remove a significant fish passage obstruction.
The culvert replacement projects would restore or enhance natural hydrologic process by replacing the existing culvert with a 14' x 10' multi-plate arched culvert. The park has been evaluating all possible rehabilitation options for this trail crossing and determined that the undersized culvert needs to be replaced with a multi-plate arch culvert. As a result of site surveys and additional damage to the trail as a result of the winter 2006 storms, the Seashore has had to resolve the flooding concerns at this site to accommodate a 100-year flood event.
-NPS-
Last updated: February 28, 2015