Park Rangers and Drug Enforcement Officers Remove Illegal Marijuana Cultivation Site at Point Reyes National Seashore - August 29, 2006
Date:
August 29, 2006
Contact:
John Dell'Osso
, 415-464-5135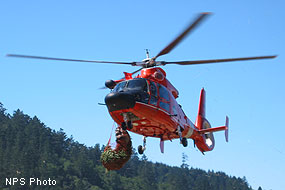 Today National Park Service Rangers, the Marin County Sheriff's Office and Major Crimes Task Force, U.S. Park Police, Marin Municipal Water District and Sonoma County Sheriff's Department entered several marijuana grow sites and confiscated approximately 20,000 marijuana plants with an estimated street value of $50 million dollars. The NPS and other agencies removed a smaller site where 2,500 plants were growing in July. The sites are located in the Olema Valley and Bolinas Ridge areas in western Marin County.
This year's seizure appears to be one of the largest marijuana operations ever found in Marin County. Other National Park Service sites in California have also removed large areas of marijuana including Yosemite National Park, Sequoia-Kings Canyon National Parks, and Whiskeytown National Recreation Area.
"Park rangers and other agency personnel have been working diligently this year to reduce drug activity on public lands. We want to make sure visitors are safe and park resources are protected," stated Colin Smith, Chief Law Enforcement Ranger at Point Reyes National Seashore.
Lieutenant Scott Anderson of the Marin County Sheriff's Office stated, "This has been a problem for sometime in the County. Today's multi-agency approach to remove this illegal activity worked well."
"We are concerned not only about the illegal drugs being grown on Park Service and MMWD land, but also the damage that such operations cause to vegetation, water resources and wildlife," said Paul Helliker, General Manager of Marin Municipal Water District.  "We will be taking measures to restore the damaged areas."
The areas under cultivation suffered extensive resource damage from the growing operations. A comprehensive resource assessment is being conducted, but preliminary estimates show numerous trees were damaged to make the site. Additionally, several water holding ponds were dug into the hillside, and an extensive irrigation system was constructed to a spring approximately ½ mile from the site. Growers are killing wildlife, diverting streams that contain threatened species of fish, using harmful pesticides and bringing the presence of violence to these natural areas.
"The National Park Service wants to thank the other agencies involved in this multi-jurisdictional effort, including National Park Service Rangers from Golden Gate National Recreation Area, U.S. Park Police, Marin County Sheriff's Office and  Major Crimes Task Force, Marin Municipal Water District and Sonoma County Sheriff's Department," stated Superintendent Don Neubacher.
Efforts are underway to remove all the garbage from the site and to begin restoration work.
-NPS-
Additional Information to Media:
Until the sites are secured, we will not be escorting the media into these locations. Later this week, either Thursday or Friday, I will be available to take media into the sites for pictures and interviews. Time and meeting location will be announced.
John Dell'Osso
Last updated: February 28, 2015