Volunteers Wanted for 2006 Harbor Seal Monitoring Program
Date:
January 17, 2006
Contact:
John A. Dell'Osso
, 415-464-5135
Contact:
Harbor Seal Volunteer Coordinator, 415-464-5210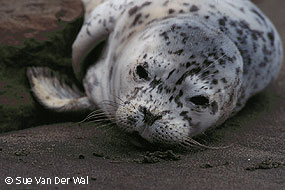 Help protect the natural resources of Point Reyes National Seashore and one of the most significant breeding populations of harbor seals in California by being involved in a long-term monitoring program. Learn about harbor seals and their ecology through an intensive training program.
Volunteers survey on weekdays or weekends, March-July. A minimum commitment of 2 surveys per month is required. Work requires long hikes and volunteers must be in good physical condition and have some biology experience.
Training starts Saturday, February 25th at Bear Valley. Two additional required training sessions include March 11 and March 25.
Call the Volunteer Coordinator at 415-464-5210 for more information.
-NPS-
Last updated: February 28, 2015