Point Reyes Lighthouse Lens Receives Special Care
Date:
December 14, 2004
Contact:
John Dell'Osso
, 415-464-5135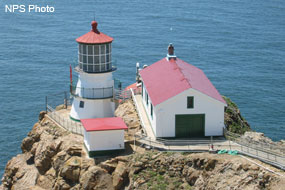 An extensive stabilization of the historic Fresnel (fray-nel) lens at Point Reyes Lighthouse is underway. Scheduled for completion later this week, the project will ensure the preservation of the last intact 1st order lens and clockwork assembly in the United States.
Time has taken a toll on the 8-foot tall lens made of 1032 hand-ground glass prisms. Over time, many of the prisms have become loose as the glazing putty which secured each prism into its frame has dried out and failed. The keepers and lampists who once cared for the intricate Fresnel lens disappeared as lighthouses were automated across the country. With them, the skills needed to care for this rare treasure have become hard to find.
Jim Woodward, a lampist and lighthouse consultant, is one of only four trained specialists in the country who has this unique knowledge and understanding. He was hired by the National Seashore to stabilize the lens. In cooperation with park staff, Mr. Woodward is performing the needed work to preserve the historic lens for years to come.
Historical Background
The Point Reyes Lighthouse was first lit on December 1st, 1870 using a French made 1st order Fresnel Lens. This treacherous point, once characterized as "the worst the Pacific has to offer (SF Chronicle, 1870)," was lit to guide mariners safely past Point Reyes. A keeper would descend 300 feet to the lighthouse 1/2 hour before sunset to light the wick of an oil lamp that served as the stations earliest light source. He then activated the lens' rotation movement by winding a simple clockwork mechanism that was driven by a descending weight. This mechanism, wound every 2 hours and twenty minutes throughout the night, maintained the station's characteristic 5-second flash pattern.
With the aid of lighthouse keepers, the Point Reyes Light Station remained in operation for 105 years. Throughout that time, several improvements were made including electricity in 1939 and a motor for powering the lens rotation in the 1950's. In 1975, an automated light was installed. The historic lighthouse was then turned over to the National Park Service for restoration and preservation, opening to the public two years later. Despite technological improvements throughout its 105 years of service, much of the station's historic 1870's integrity has been preserved.
Today, National Park Service staff are the on-site stewards of this 19th Century optical marvel, but the American public with their love of maritime history have become the modern-day lighthouse "keepers."
Please visit our website at https://www.nps.gov/pore/history_maritime_lgthse.htm for specific information on the Point Reyes Lighthouse.
Note to Media: Digital images available upon request. Call John Dell'Osso at the number above.
-NPS-
Last updated: February 28, 2015