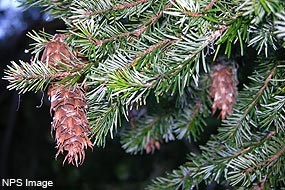 Douglas-fir (Pseudotsuga menziesii)
This is, by far, the largest tree in the park. Old Douglas-firs can rival redwoods in size, reaching up to six feet in diameter. It is not a true fir, but it can look like one, and its scientific name translates to "false hemlock." At one time, people called it "Douglas spruce"; the Spruce Tree House at Mesa Verde National Park was actually named for a Douglas-fir. Mature Douglas-fir forms a large canopy that shades the ground below. Hunt around the ground and you may be able to find a Douglas-fir cone. No other conifer has such obvious three-pronged bracts that stick out of the scales. Each cone holds 20 to 50 seeds. In early fall, the cones release the winged seeds to drift to the ground. The dark forest that you see on surrounding ridges driving up Highway 1 through Olema Valley is made up of Douglas- firs. Your best views of Douglas-firs are on any trail or road on the south end of Inverness Ridge.
Presence: Very common.
Tree: Grows 70 to 250 ft. tall, bark is thick with heavy furrows.
Leaf: Short, single needles.
Fruit: Pine nuts produced in cones.