Grasses and Grass-like Plants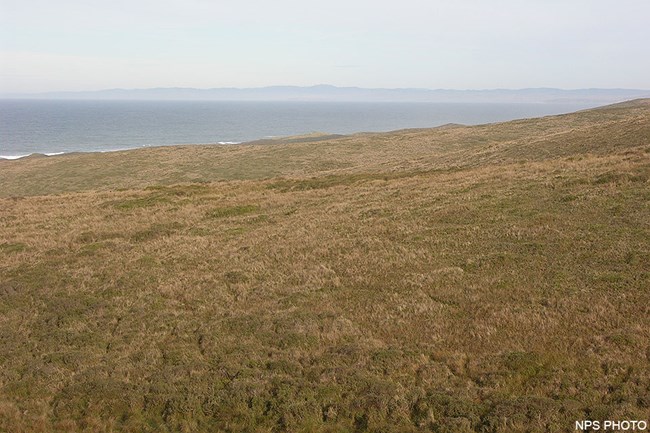 Less than one percent of California's native grassland is still intact today. The northern coastal prairie, which extends into Oregon, is the most diverse type of grassland in North America. Pristine patches of this vegetation still grow at Point Reyes on either side of the San Andreas Fault. Deschampsia coastal prairie is found on the Point Reyes peninsula and Danthonia coastal prairie is found on Bolinas Ridge. Coastal prairie is dominated by long lived perennial bunchgrasses, such as Purple needlegrass, California fescue and California oatgrass, all of which can stay green year round with the moisture provided in the fog belt.
Purple needlegrass (Stipa pulchra) is the most widespread native perennial bunchgrass found in California. It was an important food source to Native Americans, and is valuable to wildlife and livestock. Purple needlegrass is used in many restoration projects at Point Reyes. Its life span can last for hundreds of years; and its deep root systems can support the survival of young oak trees through root fungal associations.
California fescue (Festuca californica) is a native perennial bunchgrass that lives in both shaded and open areas. It is found in coastal forests, chaparral and grasslands. At Point Reyes, it is found at the D-ranch, as well as in the wilderness, growing on west to southwest facing slopes.
California oatgrass (Danthonia californica) is a densely tufted perennial grass. It is found in moist soils, and is moderately drought-tolerant. It is dominant in the coastal prairie along Bolinas ridge where it grows with purple needle grass. Danthonia has adapted to grazing pressure by producing fertile seed enclosed within the stem.
Grass-like sedges and rushes may also be found at Point Reyes. "Sedges have edges and rushes are round," is an often used phrase to help people know what they are looking at. Like grasses, sedges and rushes have linear plant forms, and inconspicuous flowers which lack color. However, these are three distinct plant families. Sedges and rushes are wetland plants with fewer species than the highly diverse grass family.
Volunteers can help the park work toward the goal of restoring native grasslands. To get involved, contact Dylan Voeller by email or at 415-464-5216.
Native Grassland Restoration News - April 2007 (306 KB PDF)
Pacific Coast Science and Learning Center Research Project Summaries
From 2006 to 2009, Pacific Coast Science and Learning Center (PCSLC) communication interns assisted scientists conducting research through the PCSLC and the San Francisco Bay Area Inventory & Monitoring Network to produce a series of Resource Project Summaries, four of which were about grasses at Point Reyes. These two-page summaries provide information about the questions that the researchers hoped to answer, details about the project and methods, and the results of the research projects in a way that is easy to understand.


Last updated: October 9, 2022