Volunteer: Visitor Services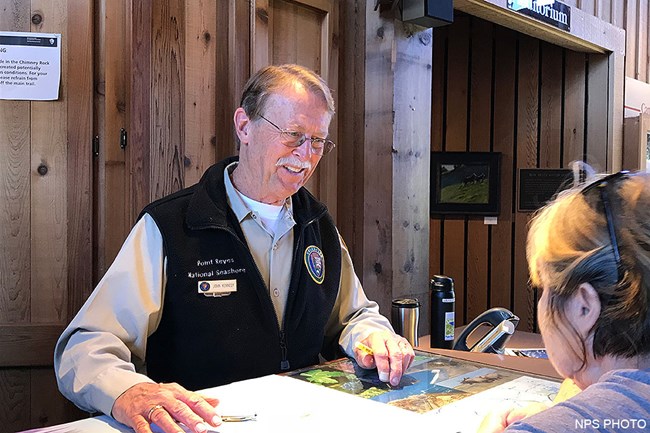 Overview
The Visitor Services Volunteer helps to strengthen the connection with and foster stewardship of Point Reyes National Seashore among park visitors by staffing the visitor center desks at the Bear Valley Visitor Center.
Duties
Staffs—alongside park rangers, cooperating association staff, and volunteers—the visitor center desk at the Bear Valley Visitor Center and/or Lighthouse Visitor Center
Addresses visitor needs and facilitates positive visitor experiences by:

orienting visitors to Point Reyes National Seashore and the surrounding area;
assisting visitors in identifying appropriate recreational opportunities;
providing information about the park and the surrounding area; and
conveying the significance of the park's natural, historical, and cultural resources

Responds to and answers visitor questions in-person and over the phone
Provides services to visitors in an efficient and professional manner
Roves park areas to contact visitors
Keeps current on park conditions, closures, issues, etc.
Represents the National Park Service by wearing a volunteer uniform and interacting with visitors in a friendly, courteous, tactful, and helpful manner
Performs retail sales
Volunteers must have an interest and desire to serve others, possess very good listening and oral communication skills, and have the abilities to interact with a variety of people and work as part of a team as well as independently.
Customer service and/or retail sales experience, public speaking experience, knowledge of the park and area, and teaching and hiking experience are helpful.
Schedule and Time Commitment
The Visitor Services program is available year-round. Volunteers are expected to volunteer a minimum of three 6-hr shifts per month, Monday through Friday, for 6 months.
Training
The Visitor Services Volunteer will train via independent study and in-person mentored training.
Benefits to the Volunteer
Opportunity to join the team of park stewards in the education and protection of sensitive cultural, historical, and natural resources of national significance
Opportunity to engage and work with park staff
Opportunities for formal and informal training about the park's resources
Opportunity to develop a deeper connection with Point Reyes National Seashore
Free Volunteer Pass, an Annual Pass awarded to those individuals who volunteer 250 hours at one or more recreation sites managed by six Federal agencies, including the National Park Service. The Volunteer Pass permits free entry to federal recreation sites where an entrance fee is required.
Group Type
Individuals are encouraged to apply.
Minimum Age
Minimum age is 16. Volunteers under 18 must have a signed parental consent form. Please contact us (see below) for more information.
Accommodations
Housing and camping/RV sites are unavailable.
Application and Contact Information
Please apply via Volunteer.gov. For more information, contact Doug Hee at 415-464-5145 or by email.
Last updated: February 4, 2023